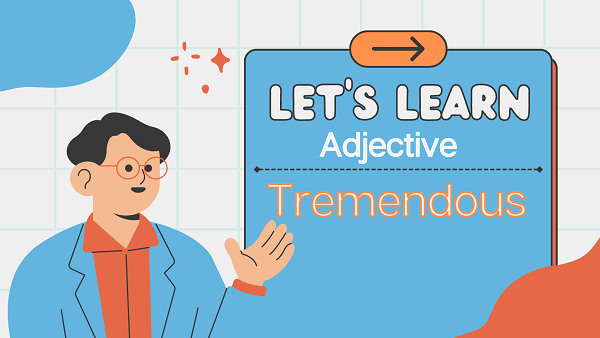 Casting Light on The Word 'Tremendous'
Definition
Extremely large, powerful, or intense; extraordinary in size, amount, or force; of great significance or impact.
Meaning
When something is described as "tremendous," it means that it is exceptionally large, powerful, or significant. It conveys the idea of being awe-inspiring or having a profound impact.
Synonyms
Enormous
Huge
Immense
Gigantic
Massive
Colossal
Astounding
Extraordinary
Monumental
Overwhelming
Antonyms
Tiny
Small
Insignificant
Minor
Inconsequential
Ordinary
Meager
Trivial
Negligible
Paltry
Importance of Tremendous
Understanding the concept of "tremendous" is important in various contexts:
Impact and Significance
Recognizing and understanding tremendous events, achievements, or changes helps us appreciate their magnitude and significance in history, science, or human endeavors.
Emotional Expressions
Using the term "tremendous" allows us to convey strong emotions or experiences that leave a lasting impression or have a profound effect on us.
Motivation and Inspiration
Acknowledging tremendous achievements of individuals or groups can serve as a source of motivation and inspiration for others to strive for greatness.
Business and Economics
In economic and business contexts, identifying tremendous growth or opportunities can guide strategic decisions and investments.
FAQs(Frequently Asked Questions)
Can "tremendous" be used to describe both positive and negative situations?
Yes, "tremendous" can be used in both positive and negative contexts. It can describe exceptionally positive achievements or experiences as well as overwhelmingly negative events or challenges.
What are some examples of tremendous historical events?
Examples of tremendous historical events include the Apollo 11 moon landing, the fall of the Berlin Wall, the signing of significant treaties or agreements, and major revolutions that reshaped societies.
How is "tremendous" different from "enormous" or "massive"?
"Tremendous," "enormous," and "massive" are all adjectives that convey large size or magnitude, but they can be used in slightly different contexts. "Tremendous" often emphasizes the awe-inspiring or impactful nature of something, while "enormous" and "massive" simply refer to great size without the same connotation of significance.
Can "tremendous" be used to describe personal achievements?
Yes, "tremendous" can be used to describe personal achievements that are exceptionally significant or extraordinary. For example, someone might say they had a "tremendous accomplishment" in their career or personal life.
Continue To Explore A-Z Words