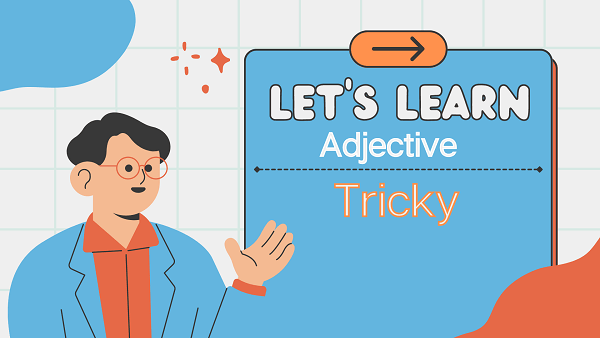 Casting Light on The Word 'Tricky'
Definition
Difficult to deal with or handle due to complexity, intricacy, or deception; presenting challenges or requiring skill and careful attention.
Meaning
When something is described as "tricky," it means that it is challenging, puzzling, or potentially deceptive. It can refer to situations, tasks, or individuals that require extra effort, caution, or cleverness to navigate successfully.
Synonyms
Difficult
Complicated
Deceptive
Perplexing
Puzzling
Knotty
Complex
Challenging
Problematic
Thorny
Antonyms
Easy
Simple
Straightforward
Clear
Transparent
Obvious
Uncomplicated
Unproblematic
Straightforward
Honest
Importance of Tricky
Understanding the concept of "tricky" is important in various contexts:
Problem-Solving and Decision-Making
Recognizing tricky situations helps individuals approach problem-solving and decision-making with the necessary caution, analysis, and creativity.
Risk Assessment and Management
Identifying tricky elements in projects or ventures allows for better risk assessment and management to avoid potential pitfalls.
Communication and Negotiation
Understanding when interactions or negotiations may become tricky helps individuals navigate conversations with diplomacy and tact.
Learning and Education
Recognizing tricky concepts in education allows students and educators to focus on areas that may require additional attention and support.
FAQs(Frequently Asked Questions)
Are "tricky" situations always negative?
Not necessarily. While "tricky" situations often pose challenges, they can also offer opportunities for growth, learning, and problem-solving. It depends on how individuals approach and handle them.
How can one navigate tricky situations effectively?
Navigating tricky situations effectively may involve staying calm and composed, gathering information, seeking advice or assistance, being adaptable, and considering various options before making decisions.
What are some examples of tricky tasks or problems in daily life?
Tricky tasks or problems in daily life can include resolving conflicts between friends, managing complex work projects, understanding intricate legal matters, or deciphering a challenging puzzle or riddle.
Can "tricky" also refer to someone being dishonest or deceitful?
Yes, "tricky" can refer to someone being deceptive or dishonest, especially when describing their behavior or actions. In this context, it suggests that the person is not straightforward and may be trying to mislead others.
Continue To Explore A-Z Words