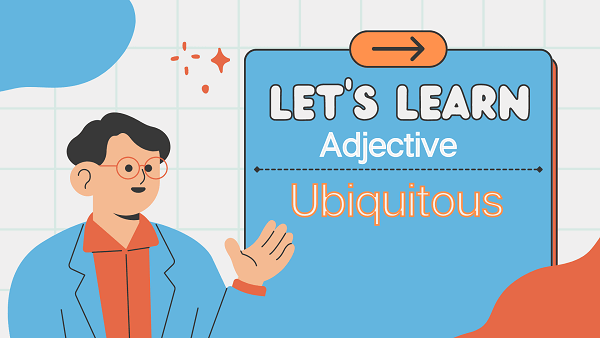 Casting Light on The Word 'Ubiquitous'
Definition
Present, found, or existing everywhere at the same time; constantly encountered or widespread.
Meaning
When something is described as "ubiquitous," it means that it is seemingly everywhere and can be found or encountered in numerous places or situations.
Synonyms
Omnipresent
Pervasive
Ever-present
Widespread
All-pervading
Universal
All-around
Prevalent
All-present
Everywhere
Antonyms
Rare
Scarce
Limited
Infrequent
Uncommon
Sparse
Occasional
Unusual
Singular
Unique
Importance of Ubiquitous
Understanding the concept of "ubiquitous" is important in various contexts:
Technology and Connectivity
Ubiquitous technologies, like smartphones and the internet, have transformed the way people communicate and access information globally.
Marketing and Advertising
Ubiquitous advertising strategies aim to reach a wide audience through multiple channels, maximizing brand exposure.
Environmental and Social Issues
Understanding ubiquitous pollutants or issues helps address and mitigate their impact on the environment or society.
Cultural and Societal Impact
Ubiquitous cultural symbols or trends can influence societies and shape collective behavior and beliefs.
FAQs(Frequently Asked Questions)
What are some examples of ubiquitous technologies in daily life?
Some examples of ubiquitous technologies include smartphones, laptops, Wi-Fi, GPS, and social media platforms.
Can "ubiquitous" refer to intangible things as well?
Yes, "ubiquitous" can refer to both tangible and intangible things that are widely present or commonly encountered.
How is "ubiquitous" different from "omnipresent"?
"Ubiquitous" and "omnipresent" are very similar in meaning and can often be used interchangeably. Both convey the idea of being present everywhere at the same time. "Omnipresent" has a more religious or spiritual connotation, often used to describe a deity or a higher power that is present everywhere.
Why is the concept of ubiquitous technology important in the modern world?
The concept of ubiquitous technology is essential in the modern world because it has revolutionized communication, access to information, and the way people conduct various activities. Understanding its impact helps individuals adapt to the digital age and make informed decisions about technology usage.
Continue To Explore A-Z Words