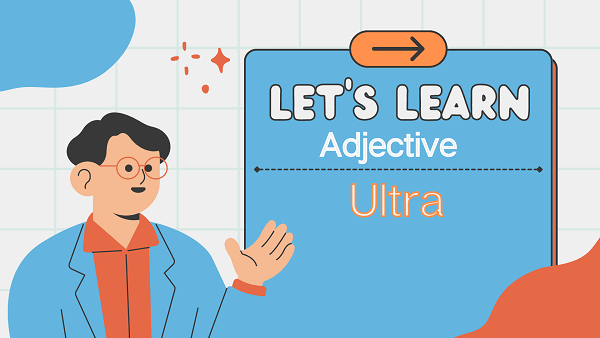 Casting Light on The Word 'Ultra'
Definition
Going beyond or surpassing the usual or ordinary; extremely or excessively extreme.
Meaning
As an adjective, "ultra" refers to something that goes beyond the usual or ordinary, often denoting extreme or excessive qualities. As a noun, it refers to a person who holds extreme or radical views, particularly in politics.
Synonyms
Extreme
Excessive
Radical
Super
Extraordinary
Over-the-top
Exorbitant
Intense
Fanatical
Unreasonable
Antonyms
Moderate
Reasonable
Normal
Ordinary
Average
Balanced
Sane
Rational
Conservative
Moderate
Importance of Ultra
Understanding the concept of "ultra" is important in various contexts:
Politics and Ideologies
Recognizing and understanding ultra views or ideologies is crucial for comprehending political dynamics and extremist movements.
Consumerism and Marketing
Identifying ultra or over-the-top marketing strategies helps consumers make informed decisions and avoid excessive or unnecessary purchases.
Social Impact
Recognizing ultra behaviors or attitudes can highlight potential negative impacts on society and prompt discussions about moderation and balance.
Art and Creativity
Understanding ultra expressions in art, fashion, or design can shed light on the boundary-pushing and unconventional aspects of creativity.
FAQs(Frequently Asked Questions)
Can "ultra" be used in a positive context?
While "ultra" is often associated with extreme or excessive characteristics, it can be used positively when describing exceptional achievements or extraordinary accomplishments.
Are "ultra" views always considered negative?
"Ultra" views can be considered negative when they promote extremism, intolerance, or harmful behaviors. However, in some contexts, such views may be valued for challenging norms or driving progress.
Is "ultra" synonymous with "fanatical"?
"Ultra" and "fanatical" share similar meanings, as both refer to extreme or excessive behavior or beliefs. However, "ultra" can also be used more generally to describe something that is extremely intense or beyond the norm, not necessarily tied to fanaticism.
How can individuals avoid falling into the trap of ultra consumerism?
To avoid falling into the trap of ultra consumerism, individuals can practice mindful spending, focus on needs rather than wants, and seek balance in their consumption patterns. Being critical of marketing tactics and evaluating purchases based on genuine value can also help.
Continue To Explore A-Z Words