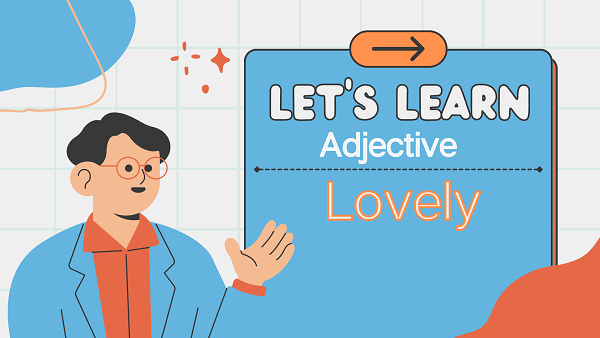 Casting Light on The Word 'Lovely'
Adjective Usage
"Lovely" is an adjective used to describe something or someone that evokes feelings of beauty, charm, or admiration. It signifies an aesthetic or emotional appeal that is pleasing and delightful.
Synonyms
Some synonyms for "lovely" include beautiful, attractive, charming, delightful, enchanting, and exquisite. These words convey a similar meaning of something or someone being highly pleasing to the senses or emotions.
Antonyms
Antonyms for "lovely" include ugly, unattractive, unpleasant, and repulsive. These words represent the opposite end of the beauty or attractiveness spectrum.
Comparative and Superlative Forms
The comparative form of "lovely" is "lovelier," and the superlative form is "loveliest." These forms are used to compare the degree of beauty or charm between two or more things.
Etymology
The word "lovely" originated from the Middle English word "love lick," which meant "lovable" or "worthy of love."
Lovely in Relationships
This is often used to describe someone in a positive and affectionate way, indicating their attractiveness, inner beauty, or pleasant personality traits.
Lovely in Objects
"Lovely" can also describe objects, places, or things that are visually appealing, aesthetically pleasing, or inspiring admiration.
Expressions of Delight
"Lovely" can be used as an expression of delight or appreciation when encountering something that is pleasing or enjoyable. For example, someone might say, "What a lovely day!" or "That's a lovely surprise!"
Lovely in Language
The word "lovely" is commonly used as a term of endearment or to express admiration or fondness towards someone or something.
Phrases and Idioms
The word "lovely" is used in various phrases and idioms. For example, "lovely weather for a picnic" indicates ideal weather conditions for an outdoor gathering, and "lovely to meet you" expresses pleasure in making someone's acquaintance.
FAQs(Frequently Asked Questions)
What is the key to lovely?
The key to "lovely" is a quality or combination of qualities that evoke feelings of beauty, charm, or admiration. It can be found in the aesthetic appeal, inner qualities, or overall pleasantness of a person, object, or experience.
Who sang lovely with Billie Eilish?
The song "Lovely" was performed by Billie Eilish and Khalid. It was released in 2018 as a collaboration between the two artists and gained significant popularity for its haunting and emotive sound.
What is Billie Eilish's real name?
Billie Eilish's real name is Billie Eilish Pirate Baird O'Connell. She is an American singer-songwriter known for her distinctive musical style and captivating performances.
How old is Billy Irish?
As of my knowledge cutoff in September 2021, Billie Eilish was born on December 18, 2001, making her around 19 years old. However, please note that her age may have changed since then
Related