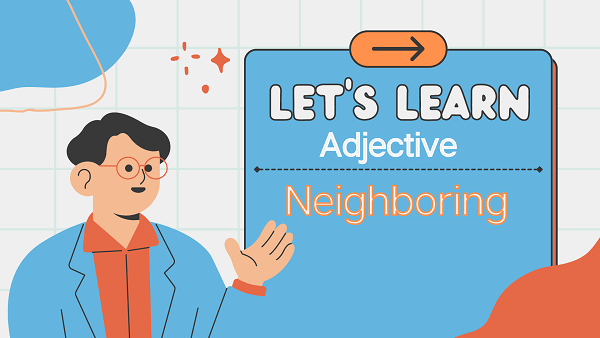 Casting Light on The Word 'Neighboring'
Adjective Usage
"Neighboring" is an adjective used to describe something or someone that is located or situated in close proximity to another. It conveys the idea of being adjacent or nearby.
Synonyms
Some synonyms for "neighboring" include adjacent, nearby, close, bordering, adjoining, and proximate. These words convey a similar meaning of something being in close proximity or sharing a boundary with another.
Antonyms
Antonyms for "neighboring" would include distant, faraway, remote, or separate. These words represent the opposite end of the spectrum, suggesting a greater distance or separation between two entities.
Comparative and Superlative Forms
The comparative form of "neighboring" is "more neighboring," and the superlative form is "most neighboring." These forms are used to compare the degree of nearness or adjacency between two or more things.
Etymology
The word "neighboring" is derived from the Middle English word "neighbor (u)ring," which meant "living nearby."
Geographical Context
"Neighboring" is often used to describe locations, areas, or regions that are geographically close to one another. It indicates a shared border or proximity between two or more entities.
Social Context
"Neighboring" can also refer to people or communities living in close proximity to one another, suggesting a sense of local community or shared living space.
Cultural Exchange
"Neighboring" can extend beyond physical proximity and indicate a relationship or interaction between two entities that are closely connected or have a significant influence on each other, such as neighboring countries with shared cultures or historical ties.
Cooperation and Interdependence
The term "neighboring" can imply a sense of cooperation, interdependence, or mutual influence between entities that are in close proximity. It can describe the interconnectedness and shared interests between neighboring entities.
Neighborhoods
The concept of "neighboring" is often associated with residential areas or communities, emphasizing the relationship and interaction between individuals or households living in close proximity.
FAQs(Frequently Asked Questions)
What is a synonym for neighboring?
A synonym for "neighboring" is "adjacent," indicating something that is situated or located nearby or next to another. Other alternatives include "nearby," "bordering," or "proximate," all conveying a similar meaning of being in close proximity or sharing a boundary.
How do you spell neighboring in the UK?
In the UK, "neighboring" is spelled as "neighboring," with the inclusion of the letter "u" after the "gh" in the word. This spelling is consistent with the British English spelling conventions.
What is the concept of neighboring?
The concept of neighboring refers to the relationship or interaction between entities that are located in close proximity to one another, sharing a boundary or being nearby. It emphasizes the idea of spatial connection and the potential for social, cultural, or geographic exchange.
What is a sentence for neighboring?
The neighboring houses had a friendly gathering in the backyard. The two neighboring countries share a long border and have a history of cultural exchange. I often see my neighboring colleague at the local coffee shop during lunch breaks.
Related