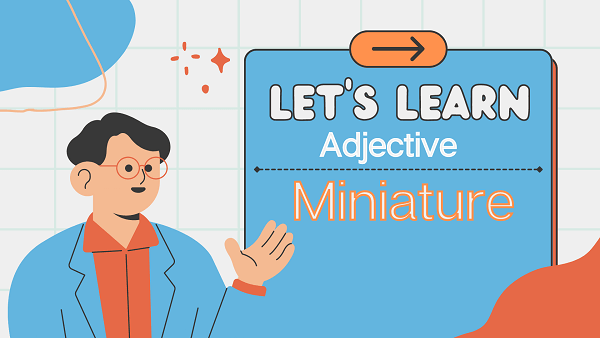 Casting Light on The Word 'Miniature'
Definition
"Miniature" is an adjective that describes something that is much smaller in scale or size compared to the usual or standard version. It can also refer to a small, highly detailed representation or replica of something.
Small Scale
"Miniature" implies a reduced size or scale, often creating a smaller version of an object, artwork, or model. It suggests a level of intricacy and precision in capturing the details despite its diminutive size.
Reproduction and Representation
The term "miniature" is often used to describe small-scale reproductions or representations of larger objects or scenes. It can refer to paintings, sculptures, models, or even literary works that are condensed but retain the essential characteristics or features of the original.
Synonyms
Synonyms for "miniature" include "small," "tiny," "compact," "scaled-down," "diminutive," "pocket-sized," and "microscopic." These words convey the sense of reduced size or scale that is associated with miniatures.
Antonyms
Antonyms for "miniature" include "large," "full-sized," "normal," "standard," and "life-sized." These words describe objects or things that are not reduced in size or are presented in their typical or standard proportions.
Contextual Usage
"Miniature" can be used to describe various objects or creations, such as miniature paintings, miniature models, miniature figurines, miniature landscapes, or even miniature versions of food, architecture, or vehicles.
Artistic Tradition
Miniature art has a long-standing tradition in various cultures, such as Persian miniatures, Indian miniatures, or European miniature paintings, which involve highly detailed and intricate works of art on a reduced scale.
Collectibles and Hobbies
Miniatures are often collected and appreciated by hobbyists and enthusiasts who enjoy craftsmanship and attention to detail in creating small-scale replicas or representations of various subjects.
Historical Significance
Miniatures have been used throughout history as a way to preserve and document important events, people, or objects in a more manageable and portable form, such as in historical dioramas or miniature reconstructions.
Creative Expression
Miniatures provide artists, craftspeople, and creators with an opportunity to showcase their skills in capturing intricate details and conveying a sense of charm or fascination through condensed and diminutive forms.
FAQs(Frequently Asked Questions)
What is known as a miniature?
A miniature is a small-scale version or representation of an object, artwork, or scene that retains the essential features or characteristics of the original. It is typically highly detailed and intricately crafted, often serving as a condensed yet recognizable depiction of the larger subject. Miniatures can include paintings, sculptures, models, or even literary works.
What does miniature mean?
"Miniature" refers to something that is greatly reduced in size or scale compared to the standard or usual version. It can also describe a small, detailed representation or replica of an object, artwork, or scene. The term implies a high level of precision and attention to detail despite its diminutive size.
Is it miniature or miniature?
The correct spelling is "miniature," not "miniature." The word refers to something small in scale or size and is spelled with an "a" after the "n."
What is a miniature example?
An example of a miniature could be a small-scale model of a famous building, such as the Eiffel Tower, crafted with intricate details and precision. Another example is a miniature painting, showcasing intricate brushwork and capturing a scene or portrait in a condensed size. Miniature collectible figurines, like tiny animals or fantasy characters, are also common examples of miniatures.
Related