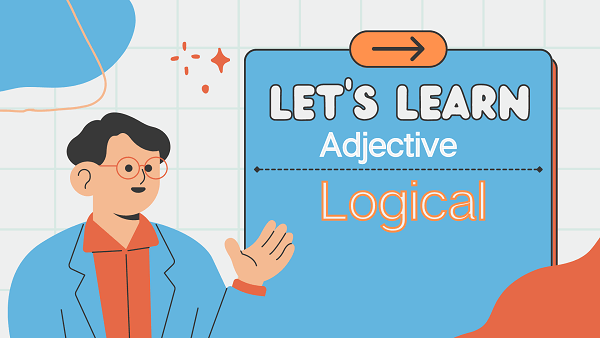 Casting Light on The Word 'Logical'
Adjective Usage
"Logical" is an adjective used to describe something that is based on reason, rationality, or sound reasoning. It refers to ideas, arguments, or conclusions that follow a logical sequence or pattern.
Synonyms
Some synonyms for "logical" include rational, reasonable, coherent, consistent, reasoned, and sensible. These words convey a similar meaning of something being based on logical thinking and adherence to principles of logic.
Antonyms
Antonyms for "logical" include illogical, irrational, unreasonable, inconsistent, and nonsensical. These words represent the opposite end of the logical or rational spectrum, suggesting a lack of coherence or adherence to sound reasoning.
Comparative and Superlative Forms
The comparative form of "logical" is "more logical," and the superlative form is "most logical." These forms are used to compare the degree of logic or rationality between two or more things.
Etymology
The word "logical" originated from the Greek word "logos," which referred to something related to reason or speech.
Logic in Reasoning
"Logical" is often used to describe reasoning that is clear, consistent, and free from contradictions. It implies a logical flow of thoughts and the ability to draw valid conclusions based on evidence and principles of logic.
Logical Thinking
Thinking involves the ability to analyze and evaluate information in a systematic and rational manner, using logical principles and deductions to arrive at conclusions.
Logical in Problem-Solving
Being logical is often seen as an important trait in problem-solving, as it enables individuals to approach problems in a systematic, organized, and reasoned manner.
Logical in Mathematics
Logic plays a fundamental role in mathematics, where logical reasoning is used to prove theorems, solve problems, and establish mathematical principles.
Phrases and Idioms
The word "logical" is used in various phrases and idioms. For example, "follow the logical path" means to proceed in a manner that is based on rational thinking and logical steps, and "logical conclusion" refers to a reasonable and justified inference or outcome.
FAQs(Frequently Asked Questions)
What does it mean to be logical?
To be logical means to think and reason in a rational, coherent, and systematic manner. It involves making connections, drawing conclusions, and forming judgments based on sound reasoning, evidence, and principles of logic.
What is a word for logical?
A word for "logical" is "rational," conveying a similar meaning of being based on reason, sound thinking, and coherent arguments. Other alternatives include "reasonable" or "coherent."
What is logical in an easy example?
An easy example of something logical is the following statement: "If it is raining outside, then I should bring an umbrella." It demonstrates a logical connection between the presence of rain and the need for an umbrella, based on cause and effect reasoning.
What is a logical answer?
A logical answer is a response that is based on sound reasoning, evidence, and adherence to logical principles. It is coherent, consistent, and follows a logical sequence of thought to address a question or problem.
Related