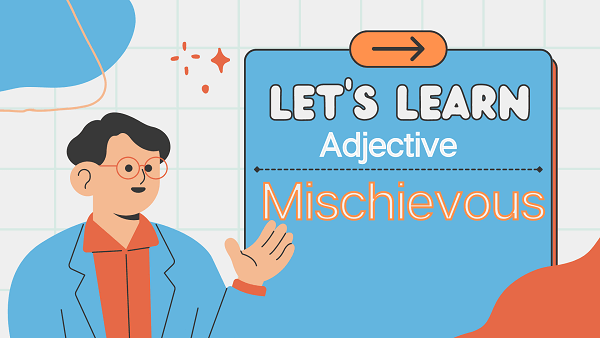 Casting Light on The Word 'Mischievous'
Definition
"Mischievous" is an adjective used to describe someone, typically a person, animal, or behavior, that is inclined to playfully cause trouble, engage in pranks, or behave in a playful and often mildly disruptive manner.
Playful and Playful Intent
"Mischievous" suggests a sense of playful and often harmless troublemaking. It implies a desire to have fun, be mischievous, or engage in playful antics, sometimes with the intention of teasing or amusing others.
Light-hearted and Fun
The term "mischievous" is associated with a sense of light-heartedness, spontaneity, and a playful spirit. It often conveys a certain charm or appeal due to the joy and humor it brings, although it may require appropriate boundaries and consideration for others.
Synonyms
Synonyms for "mischievous" include "playful," "naughty," "prankish," "impish," "roguish," "frolicsome," "teasing," and "lively." These words capture the mischievous nature and playful intent associated with the term.
Antonyms
Antonyms for "mischievous" include "well-behaved," "serious," "obedient," "orderly," "well-mannered," and "controlled." These words describe individuals or behaviors that are not inclined to playful mischief or disruptive actions.
Contextual Usage
"Mischievous" can be applied to describe the behavior of children, pets, fictional characters, or even certain situations that involve playful pranks, harmless mischief, or spirited amusement.
Positive Connotation
While "mischievous" suggests a penchant for playful troublemaking, it is often viewed positively when the intent is light-hearted and the actions do not cause harm or distress to others.
Cultural Interpretation
Perceptions of mischievous behavior may vary across cultures and contexts. What is considered playful and mischievous in one culture may be seen differently in another, emphasizing the importance of cultural norms and social context.
Developmental Stage
Mischievous behavior is commonly associated with childhood and is considered a normal part of growth and exploration. It can contribute to the development of social skills, creativity, and problem-solving abilities.
Responsibility and Boundaries
While mischievous behavior can be fun and enjoyable, it is important to recognize the need for responsibility, respect, and consideration for others. Setting appropriate boundaries and understanding the impact of actions is essential for maintaining a healthy balance between mischief and responsible behavior.
FAQs(Frequently Asked Questions)
What is the meaning of a mischievous person?
A mischievous person is someone who enjoys playful pranks, causing trouble in a lighthearted and often harmless manner, often for their own amusement or to entertain others.
How is someone mischievous?
Someone can be mischievous by engaging in playful and sometimes mildly disruptive behavior, often with a mischievous intent to tease, prank, or entertain others. They may enjoy creating small-scale trouble or mischief in a lighthearted and amusing way, often with a sense of spontaneity and a mischievous twinkle in their eye.
What is the opposite of a mischievous person?
The opposite of a mischievous person would be someone who is well-behaved, serious, or obedient. They may exhibit a responsible and controlled demeanor, avoiding playful pranks or disruptive behavior. They are inclined towards following rules and maintaining order rather than engaging in mischievous antics.
What does mischievous mean in a sentence?
In a sentence, "mischievous" can be used to describe someone's behavior or demeanor. For example, "The mischievous child delighted in hiding her sibling's toys" indicates that the child playfully caused trouble by hiding toys. It suggests a sense of playful mischief and enjoyment in the act.
Related