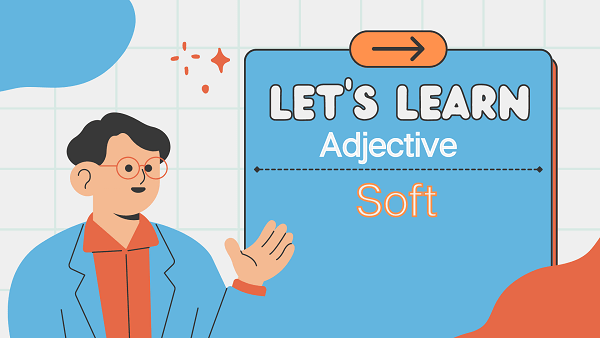 Casting Light on The Word 'Soft'
Definition
The term "soft" is an adjective with multiple meanings depending on the context. Here are some common interpretations:
Physical Texture: Having a gentle or yielding surface that is not hard, rough, or abrasive.
Manner or Character: Displaying a gentle, mild, or tender disposition or behavior.
Sound or Tone: Characterized by a quiet or gentle volume or pitch.
Economic or Business: Referring to a weak or declining market, economy, or demand.
Information Technology: Describing software that is flexible, easy to modify, or user-friendly.
Synonyms
Gentle
Mild
Tender
Delicate
Smooth
Plush
Compliant
Lenient
Subdued
Malleable
Antonyms
Hard
Rough
Harsh
Tough
Firm
Rigid
Stern
Resistant
Unyielding
Stiff
Importance of Soft
The importance of "soft" characteristics can vary depending on the context. Here are some general reasons why they are significant:
Interpersonal Relationships
Soft qualities like kindness, empathy, and compassion are essential for building strong and healthy relationships with others.
Effective Communication
Using a soft and gentle tone while communicating can enhance understanding and prevent conflicts.
Flexibility in Business and Technology
Soft software and adaptable business strategies allow for quick adjustments to changing market demands and requirements.
Stress Reduction
Soft environments, gentle sounds, and soothing textures can contribute to reducing stress and promoting relaxation.
FAQs(Frequently Asked Questions)
Why are "soft skills" essential in the workplace?
Soft skills, such as communication, teamwork, leadership, and empathy, are crucial in the workplace as they facilitate effective collaboration, employee motivation, and better customer interactions. They also contribute to a positive work environment and improved productivity.
What are some examples of "soft" materials?
Soft materials include cotton, silk, velvet, sponge, foam, and certain types of rubber. These materials have a gentle texture and are often used in clothing, upholstery, bedding, and various consumer products.
How can I develop "soft skills"?
Developing soft skills involves active practice and self-awareness. Engage in activities that require teamwork and communication, seek feedback from others, attend workshops or courses focused on soft skill development, and practice empathy and active listening in your daily interactions.
What is the opposite of "soft" in the context of economics?
The opposite of "soft" in the context of economics is "strong" or "robust." When the economy or market is referred to as "soft," it implies it is experiencing weakness, slow growth, or declining demand. Conversely, a "strong" economy indicates growth, stability, and high demand.
Continue To Explore A-Z Words