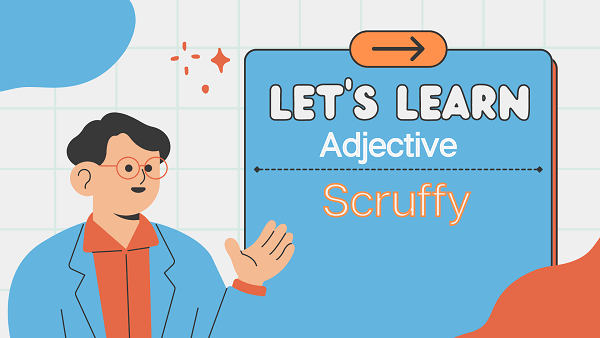 Casting Light on The Word 'Scruffy'
Definition
"Scruffy" is an adjective used to describe someone or something that appears untidy, unkempt, or messy in appearance. It is often used to describe a person's disheveled or shabby appearance or something that is not well-groomed.
Meaning
The meaning of "scruffy" is linked to a lack of neatness or tidiness. It implies a rough or neglected appearance, suggesting that the person or thing is not well-cared for in terms of grooming or presentation.
Synonyms
Untidy
Unkempt
Disheveled
Messy
Shabby
Ragged
Bedraggled
Sloppy
Tousled
Rundown
Antonyms
Neat
Tidy
Groomed
Well-dressed
Well-groomed
Smart
Polished
Immaculate
Well-kept
Clean
Importance of Scruffy
Understanding the concept of "scruffy" is crucial for various reasons:
Personal Presentation
Recognizing what "scruffy" means helps individuals be aware of their own appearance and the impression they may leave on others.
Professional Image
Understanding the importance of presenting oneself in a polished and tidy manner is essential for professional settings and making a positive impression.
Perception and Judgments
People's perceptions of others can be influenced by their appearance, and understanding the connotation of "scruffy" can help individuals present themselves appropriately in different situations.
Cultural Differences
Different cultures may have varying standards of neatness and grooming, and being aware of these differences is crucial for respectful interactions.
FAQs(Frequently Asked Questions)
Is being "scruffy" always considered negative?
While being "scruffy" is generally associated with a lack of neatness, it may not always be viewed as negative. In certain contexts or settings, a scruffy appearance may be acceptable or even desirable, such as in certain artistic or creative professions.
How can one improve their appearance if they are perceived as "scruffy"?
Improving one's appearance involves personal grooming, maintaining cleanliness, wearing well-fitted and appropriate clothing, and paying attention to overall hygiene. Regularly taking care of hair, nails, and skin can also contribute to a more polished appearance.
Can "scruffy" be used to describe places or objects?
Yes, "scruffy" can be used to describe places or objects that appear unkempt, messy, or rundown. For example, a scruffy room may have clutter and disorganized items.
What are some synonyms for "scruffy" that carry a similar meaning?
Some synonyms for "scruffy" that carry a similar meaning include "untidy," "unkempt," "disheveled," "shabby," and "messy." These words all describe something or someone with a less than tidy appearance.
Continue To Explore A-Z Words