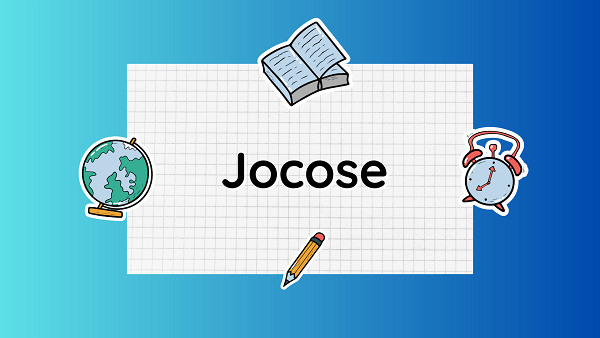 Casting Light on The Word 'Jocose'
Definition
"Jocose" is an adjective that describes a person, behavior, or remark as playful, humorous, or fond of joking. It refers to something that is characterized by a cheerful or witty sense of humor.
Playfulness and Humor
Jocose individuals have a natural inclination towards humor and playfulness. They enjoy making others laugh, engaging in lighthearted banter, or finding amusement in various situations.
Wit and Cleverness
Being jocose often involves displaying wit, cleverness, or quick thinking in order to create humorous or entertaining moments. Jocose individuals may employ puns, wordplay, or clever observations to elicit laughter.
Social Interactions: Jocose behavior tends to contribute to positive social interactions by fostering a relaxed and jovial atmosphere. Jocose individuals often have the ability to lighten the mood, ease tension, and create an enjoyable environment in social settings.
Versatility of Jocose
Jocose can be used to describe a wide range of situations or individuals, from light-hearted banter between friends to comedians or humorous entertainment. It emphasizes the inclination to engage in playful or witty behavior.
Impact on Well-being
Embracing a jocose attitude or surrounding oneself with jocose individuals can have positive effects on mental well-being. Humor and playfulness can help reduce stress, improve mood, and strengthen social connections.
Differentiation from Joking
While "jocose" and "joking" share similarities, "jocose" implies a more consistent and characteristic quality of playfulness and humor, whereas "joking" may refer to a specific instance or act of making jokes.
Cultural Variations
The perception and expression of jocose behavior can vary across cultures. Different societies have their own styles of humor and may value particular forms of wit or jokes.
Etymology
The word "jocose" originates from the Latin word "joyous," which means "jesting" or "humorous." It entered the English language in the late 16th century.
Literary and Performance Arts
Jocose elements are often present in literature, theater, stand-up comedy, and other forms of entertainment. Writers, comedians, and performers incorporate jocose techniques to engage and amuse audiences.
FAQs(Frequently Asked Questions)
What is another word for jocose?
Another word for "jocose" is "jocular." Both words convey a similar meaning of being playful, humorous, or fond of joking. They describe someone or something that exhibits a cheerful and witty sense of humor.
How do you use Jocose in a sentence?
"The jocose comedian had the audience roaring with laughter throughout the entire show."
What is the opposite of jocose?
The opposite of "jocose" is "serious" or "grave." While "jocose" refers to a playful and humorous demeanor, the opposite suggests a lack of humor or lightheartedness, indicating a more serious or solemn attitude.
Related