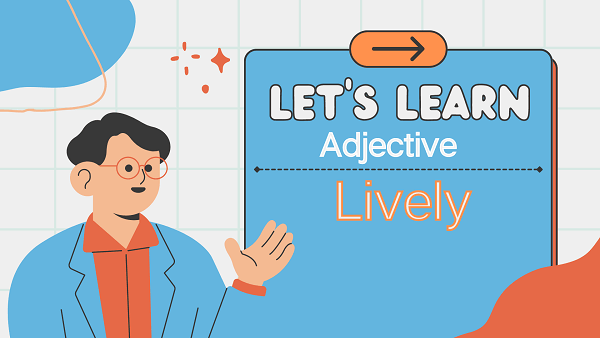 Casting Light on The Word 'Lively'
Adjective Usage
"Lively" is an adjective used to describe something or someone that is full of energy, enthusiasm, or vitality. It conveys a sense of liveliness, animation, or spiritedness.
Synonyms
Some synonyms for "lively" include energetic, vibrant, animated, spirited, dynamic, and vivacious. These words convey a similar meaning of something or someone being full of life and vigor.
Antonyms
Antonyms for "lively" include dull, lifeless, lethargic, sluggish, and inert. These words represent the opposite end of the energetic or spirited spectrum.
Comparative and Superlative Forms
The comparative form of "lively" is "livelier," and the superlative form is "liveliest." These forms are used to compare the level of energy or enthusiasm between two or more things.
Etymology
The word "lively" originated from the Middle English word "lively," which meant "full of life" or "animated."
Lively in Music and Dance
This is often used to describe music or dance that is fast-paced, upbeat, and full of rhythm and movement.
Lively in Conversation
When used to describe conversation or communication, "lively" indicates that it is engaging, dynamic, and filled with active participation and exchange of ideas.
Lively in Nature
It can also describe natural elements or environments that are full of activity, such as a lively forest with bustling wildlife or a lively beach with energetic waves.
Lively in Events
Events or gatherings can be described as lively when they are vibrant, lively, and filled with energy and excitement.
Phrases and Idioms
The word "lively" is used in various phrases and idioms. For example, "live life to the fullest" encourages living with enthusiasm and zest, and "full of beans" means being energetic and lively.
FAQs(Frequently Asked Questions)
What does just lively mean?
"Just lively" implies a state of being energetically or actively engaged, indicating a high level of liveliness or spiritedness in a particular situation or moment. It suggests a vibrant or animated presence that captures attention and creates a lively atmosphere.
What is a word for lively?
A word for "lively" is "vivacious," conveying a similar meaning of being full of energy, enthusiasm, and liveliness. Other alternatives include "energetic," "dynamic," or "spirited."
What is life in a sentence?
 " The pure water is life.
What is a synonym for not lively?
A synonym for "not lively" is "dull," indicating a lack of energy, enthusiasm, or liveliness. Other alternatives include "lifeless" or "listless," conveying a similar meaning of lacking vibrancy or vitality.
Related