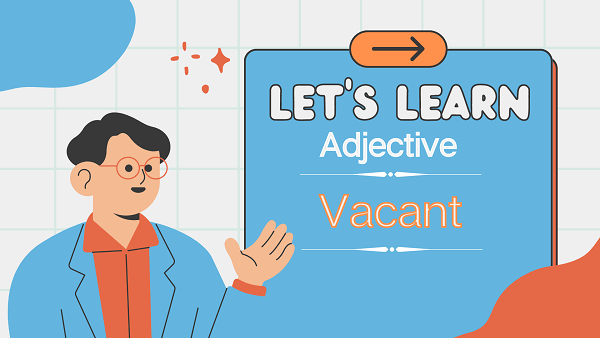 Casting Light on The Word 'Vacant'
Definition and Meaning
The term "vacant" refers to something that is empty, unoccupied, or not currently in use. It can describe physical spaces, positions, or situations where there is an absence of activity, presence, or engagement.
Synonyms
empty
unoccupied
available
free
uninhabited
deserted
idle
unused
devoid
blank
bare
barren.
Antonyms
occupied
filled
taken
engage
inhabited
used
active
busy
crowded.
Importance of Vacant
The concept of "vacant" holds significance in various contexts, and its understanding is essential for different reasons:
Real Estate and Property Management
In the real estate industry, the term "vacant" is commonly used to describe properties or rental units that do not have current occupants. It is crucial for property owners, investors, and real estate agents to know whether a property is vacant or occupied for pricing, leasing, and maintenance purposes.
Job Market and Employment
When referring to job positions, "vacant" indicates positions that are available and have not been filled by any candidate. Employers need to be aware of vacant positions to initiate hiring processes and fulfill workforce requirements.
Safety and Security
Vacant buildings or properties can pose safety risks, as they may attract trespassers, vandals, or squatters. Recognizing and addressing vacant properties is essential for maintaining community safety and security.
Tourism and Travel
In the context of tourist destinations and accommodations, "vacant" rooms or tickets are available for booking. Understanding the availability of accommodations or seats is crucial for travelers planning their trips.
FAQs(Frequently Asked Questions)
Why is it important for property owners to know if a property is vacant?
Property owners need to know if a property is vacant to assess its revenue potential, plan for maintenance and repairs, and consider security measures to protect the property from potential risks.
How does the concept of "vacant" impact urban planning and development?
The presence of vacant lots or buildings can influence urban planning decisions, such as redevelopment initiatives, zoning regulations, and efforts to revitalize abandoned areas.
Is there any difference between "vacant" and "unoccupied"?
While "vacant" and "unoccupied" are often used interchangeably, they can carry subtle distinctions. "Vacant" generally refers to something completely empty and available for use, while "unoccupied" may imply that a space or position is temporarily empty but still reserved or in use occasionally.
What are the potential risks associated with vacant properties?
Vacant properties may attract criminal activities, lead to a decline in the neighborhood's appearance and property values, and pose fire hazards due to a lack of maintenance or surveillance.
Continue To Explore A-Z Words