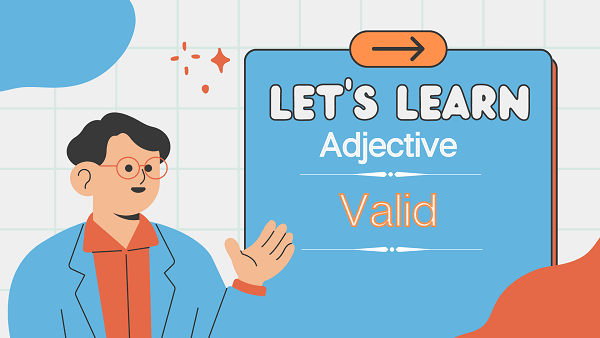 Casting Light on The Word 'Valid'
Definition and Meaning:
The term "valid" refers to something that is legally or logically sound, well-grounded, acceptable, or effective. It indicates that an argument, claim, reason, point, or action is supported by evidence, reasoning, or conforms to the relevant rules, regulations, or standards.
Synonyms
legitimate
genuine
credible
acceptable
justifiable
reasonable
lawful
effective
binding
logical
well-founded
authentic
Antonyms
invalid
illegitimate
false
baseless
unreasonable
illogical
unsound
ineffective
unlawful.
Importance of Valid
Understanding the concept of "valid" is crucial in various contexts, and its significance lies in the following areas:
Logic and Reasoning
In logic and critical thinking, an argument or reasoning is considered valid when the conclusion logically follows from the given premises. Recognizing valid arguments helps in making informed decisions and evaluating the soundness of various claims.
Legal and Contractual Matters
In legal contexts, a valid contract is one that is legally binding and enforceable. Understanding the validity of contracts, agreements, and legal documents is essential for protecting the rights and interests of parties involved.
Data and Research
In research and data analysis, having valid data means that it accurately measures what it intends to measure and can be relied upon to draw meaningful conclusions. Validity is crucial in ensuring the credibility and reliability of research findings.
Personal and Professional Relationships
In personal and professional settings, valid information and trustworthy claims are essential for effective communication, decision-making, and building trust among individuals or organizations.
FAQs(Frequently Asked Questions)
What is the difference between "valid" and "sound" in the context of arguments?
In logic, a "valid" argument means that the conclusion logically follows from the given premises, irrespective of whether the premises themselves are true. On the other hand, a "sound" argument is both valid and has true premises, making the conclusion necessarily true.
How can I determine the validity of a scientific study or research findings?
To assess the validity of a scientific study, consider factors such as the study's methodology, sample size, data collection methods, statistical analysis, and the peer-review process. Replication of the study by other researchers also enhances its validity.
What makes a passport or identification document valid?
A passport or identification document is considered valid if it is issued by the relevant government authority, contains accurate and up-to-date information about the individual, and has not expired.
Why is it essential for businesses to ensure the validity of customer information?
Valid customer information is crucial for various business processes, including marketing, sales, customer service, and compliance with regulations. Ensuring the validity of customer data helps in maintaining accurate records and providing personalized and reliable services.
Continue To Explore A-Z Words