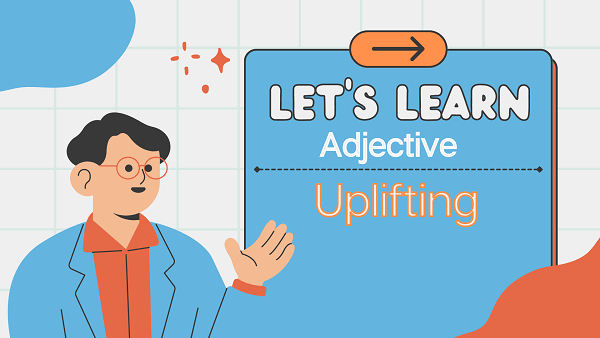 Casting Light on The Word 'Uplifting'
Definition and Meaning
"Uplifting" is an adjective used to describe something that inspires, elevates, or uplifts the spirit or emotions. It refers to things, experiences, or actions that have a positive and encouraging effect, bringing a sense of joy, hope, or motivation.
Example
The uplifting message in the motivational speech inspired the audience to pursue their dreams with determination.
Synonyms
inspiring
encouraging
heartening
uplifting
motivating
exhilarating
invigorating
positive
buoyant
hopeful.
Antonyms
discouraging
disheartening
demoralizing
depressing
deflating
dispiriting
uninspiring
pessimistic
gloomy.
Importance of Uplifting
The term "uplifting" is important as it plays a significant role in promoting well-being and mental health. Uplifting experiences or messages have the power to boost mood, foster resilience, and enhance positivity. They can motivate individuals to overcome challenges and pursue their goals with renewed enthusiasm.
FAQs(Frequently Asked Questions)
How can uplifting experiences impact mental health and overall well-being?
Uplifting experiences can have a positive impact on mental health and overall well-being. When individuals encounter uplifting moments, their brains release neurochemicals associated with happiness and joy. These experiences can reduce stress, anxiety, and feelings of sadness, promoting a more positive outlook on life.
Why is it essential for media and entertainment to include uplifting content?
Including uplifting content in media and entertainment is crucial because it can counteract the negative effects of constant exposure to distressing news or challenging situations. Uplifting content can provide a respite, improve people's moods, and offer hope and inspiration. It contributes to a healthier media diet and a more balanced emotional experience for the audience.
In what ways can uplifting messages or gestures impact interpersonal relationships?
Uplifting messages or gestures can strengthen interpersonal relationships by showing care, support, and appreciation. When people receive uplifting words or acts of kindness, it deepens their emotional connection with others. It fosters a sense of belonging and trust, creating a more positive and harmonious relationship.
How does uplifting leadership impact the morale and productivity of a team or organization?
Uplifting leadership positively influences the morale and productivity of a team or organization. Leaders who inspire and uplift their team members create a motivating work environment. Employees feel valued, supported, and empowered, which leads to increased job satisfaction and higher levels of productivity.
Continue To Explore A-Z Words