Casting Light on The Word 'Excellent'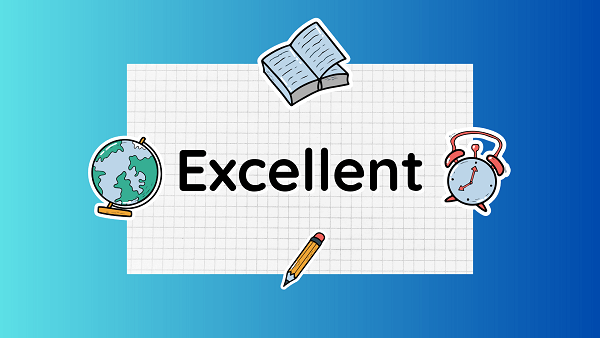 Definition
"Excellent" is an adjective that describes something of extremely high quality, surpassing expectations, or demonstrating exceptional merit or skill. It is used to indicate that something or someone is exceptionally good or outstanding.
Positive evaluation
"Excellent" is typically used to convey a positive evaluation or commendation. It expresses a high degree of approval, admiration, or satisfaction with the quality, performance, or achievement of something or someone.
Synonyms
Synonyms for "excellent" include superb, outstanding, exceptional, marvelous, splendid, remarkable, praiseworthy, first-rate, and top-notch.
Antonyms
Antonyms for "excellent" include poor, mediocre, average, subpar, inferior, unsatisfactory, and inadequate.
Usage
It can be used in various contexts, such as describing a product, service, performance, idea, or outcome. It is also commonly used to praise someone's abilities, skills, or qualities.
Etymology
The word "excellent" originated from the Latin word "excellens," which means "rising above" or "surpassing." It entered the English language in the 14th century and has retained its positive connotation ever since.
Overuse caution
While "excellent" is a positive and powerful word, it's important to use it judiciously and genuinely. Overusing the term may diminish its impact and make it less meaningful when applied to truly exceptional circumstances.
FAQs(Frequently Asked Questions)
What is the synonym for excellent?
Synonyms for the word "excellent" include:
Superb
Outstanding
Exceptional
Marvelous
Splendid
Remarkable
Praiseworthy
First-rate
Top-notch
Admirable
What is a synonym for better than excellent?
A synonym for "better than excellent" is "superlative" or "unparalleled."
What is the meaning of excellence in English?
It means extremely high quality or surpassing expectations, indicating something or someone is exceptionally good, outstanding, or praiseworthy.
What kind of word is excellent?
"Excellent" is an adjective, which is a word used to describe or modify a noun. It provides additional information about the quality, state, or characteristics of the noun it is describing. In the case of "excellent," it describes something as being of exceptional quality or merit.
Related