Casting Light on The Word 'Filthy'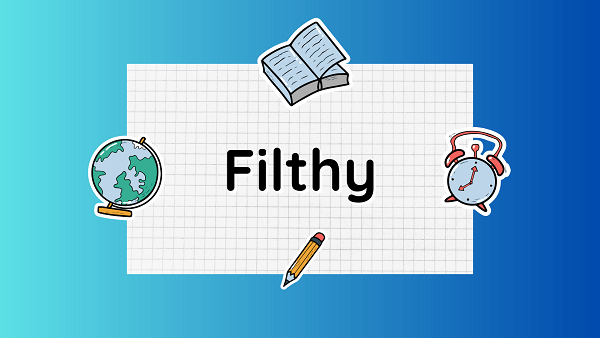 Definition
"Filthy" is an adjective used to describe something that is extremely dirty, unclean, or covered in dirt, grime, or other undesirable substances.
Synonyms
Some synonyms for "filthy" include dirty, grimy, soiled, unclean, polluted, squalid, foul, and disgusting.
Usage
The term "filthy" is often used to describe physical cleanliness, such as dirty clothes, a filthy room, or a grimy surface. It can also be used figuratively to describe morally corrupt, obscene, or vulgar behavior or language.
Intensity
"Filthy" conveys a strong sense of dirtiness or uncleanliness, suggesting a high level of contamination or impurity.
Negative Connotation
The word "filthy" generally carries a negative connotation, as it is associated with unhygienic or unpleasant conditions or behavior.
Emotional Impact
The use of "filthy" can evoke strong emotions or visceral reactions due to its association with disgust or repulsion.
Colloquial Usage
In informal contexts, "filthy" can also be used to emphasize the extreme nature of something in a positive or exaggerated manner. For example, "That song has a filthy beat," meaning the beat is incredibly intense or powerful.
Cultural References
The word "filthy" is often used in colloquial language and popular culture to add emphasis or create vivid imagery in descriptions.
FAQs(Frequently Asked Questions)
Is filthy a dirty word?
In a literal sense, "filthy" is associated with dirtiness and uncleanliness. However, in terms of language usage, it is not considered a "dirty word" in the sense of being profane or vulgar.
What does so filthy mean?
"So filthy" typically means extremely dirty, unclean, or covered in dirt or filth. It emphasizes the high level of dirtiness or impurity of something.
What is a word for filthy?
A synonym for "filthy" is "squalid," which describes something extremely dirty, foul, or run-down, often referring to living conditions or environments.
What does a feisty woman mean?
Related