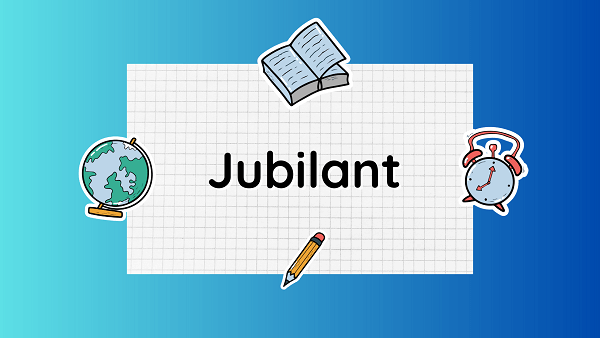 Casting Light on The Word 'Jubilant'
Definition
"Jubilant" is an adjective that describes a state of extreme joy, triumph, or celebration. It conveys a sense of exultation and elation, often accompanied by expressions of happiness and excitement.
Intense Happiness
Jubilance represents a heightened level of happiness, typically resulting from a significant achievement, success, or momentous occasion. It reflects a state of overwhelming joy and euphoria.
Celebratory and Triumphal
Jubilant moments are often associated with celebrations, victories, and moments of great achievement. It can describe the atmosphere of a festive event, a joyous crowd, or the expression of collective happiness.
Expressions of Joy
Jubilant individuals or groups may express their joy through exuberant behavior, enthusiastic cheers, applause, dancing, singing, or other outward displays of happiness and triumph.
Positive Energy
Jubilance radiates positive energy and creates an uplifting atmosphere. It can inspire and motivate others, fostering a sense of shared happiness and camaraderie.
Synonyms
Synonyms for "jubilant" include "triumphant," "ecstatic," "exultant," "thrilled," "overjoyed," and "elated." These words convey a similar sense of extreme joy and elation.
Antonyms
Antonyms for "jubilant" include "sad," "dejected," "disappointed," "despondent," and "miserable." These words describe a state of unhappiness or lack of joy.
Cultural Significance
Jubilant celebrations and expressions of joy can vary across cultures, often associated with specific traditions, festivals, or historical events.
Collective Joy
Jubilance is often experienced as a collective emotion, shared among a group of people who are united in their celebration or shared success.
Transient Nature
Jubilant moments may be intense and memorable, but they are often temporary. The feeling of jubilation may subside over time, giving way to a more sustained sense of happiness or contentment.
FAQs(Frequently Asked Questions)
What is the meaning of jubilant '?
Meaning is extreme joy, triumph, or celebration. It signifies an overwhelming sense of happiness, often expressed through exultation, excitement, and enthusiastic displays of elation.
What does jubilant mean in a sentence?
"After months of hard work, she received the news of her promotion and felt a jubilant rush of excitement and accomplishment."
What word is a synonym for jubilant?
A synonym for "jubilant" is "ecstatic," which conveys a state of extreme joy and elation. It suggests an overwhelming sense of happiness and excitement.
What type of word is jubilant?
"Jubilant" is an adjective. It is used to describe a state or characteristic of someone or something, indicating that they are experiencing or expressing extreme joy, triumph, or celebration.
Related