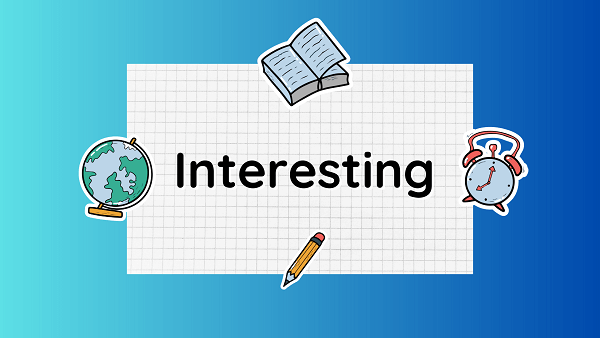 Casting Light on The Word 'Interesting'
Definition
"Interesting" is an adjective used to describe something that captures attention, arouses curiosity, or holds a person's interest. It indicates that something is engaging, captivating, or worthy of attention due to its unique, unusual, or thought-provoking qualities.
Engagement
Something that is interesting is likely to evoke a sense of engagement or fascination. It stimulates mental or emotional involvement and can hold someone's attention or curiosity for an extended period.
Variety of Contexts
"Interesting" can be used to describe various aspects of life, such as people, places, ideas, events, stories, objects, or experiences. It can refer to anything that generates interest, intrigue, or excitement.
Stimulating and Engaging
An interesting subject or topic often presents something new, unexpected, or challenging. It sparks curiosity, encourages exploration, and stimulates intellectual or emotional engagement.
Appeal and Attraction
The term "interesting" implies that something has an inherent appeal or attraction that goes beyond being merely informative or entertaining. It suggests that there is something compelling, intriguing, or captivating about the subject.
Conversation Starter
Describing something as interesting can serve as a conversation starter or topic of discussion. It invites others to share their thoughts, opinions, or experiences related to the subject.
Positive Connotation
"Interesting" generally carries a positive connotation, indicating that the subject is engaging, worthwhile, or enjoyable. It often implies a sense of excitement, curiosity, or appreciation.
Subjective Experience
Each individual has their own unique set of interests and preferences, and what is interesting to one person may not be as fascinating to another. It highlights the subjective nature of finding something interesting.
Enhancement of Life
Being exposed to and engaged with interesting things can enrich life experiences, broaden perspectives, and stimulate personal growth. It encourages continuous learning, exploration, and discovery.
FAQs(Frequently Asked Questions)
What is a better word for very interesting?
Fascinating
Engrossing
Compelling
Riveting
Intriguing
What does it's interesting mean?
The phrase "it's interesting" is a common expression used to indicate that something has caught one's attention, piqued their curiosity, or aroused their interest. It implies that the subject being referred to has qualities, information, or characteristics that are noteworthy, unusual, or thought-provoking.
Related