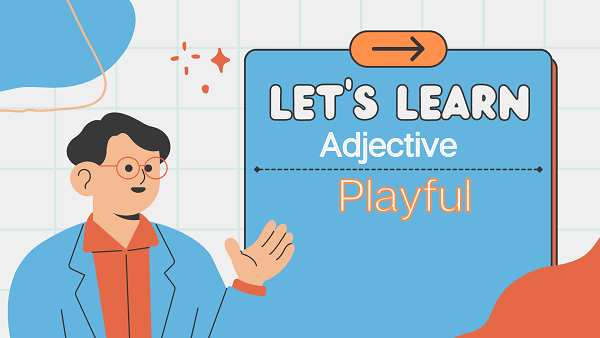 Casting Light on The Word 'Playful'
Definition
"Playful" is an adjective used to describe someone or something that is lively, cheerful, and inclined to engage in fun, joyful, or amusing activities. It suggests a sense of spontaneity, light-heartedness, and a willingness to explore and enjoy playful interactions.
Joyful and Lively
The term "playful" implies a state of being full of energy, enthusiasm, or a sense of delight. It is associated with a sense of fun, humor, or mischievousness, often characterized by a light-hearted and carefree attitude.
Playful Interactions
"Playful" can describe interactions, behaviors, or attitudes that involve humor, games, teasing, or engaging in activities purely for enjoyment or amusement. It can apply to individuals, animals, or even objects that exhibit a sense of playfulness.
Synonyms
Synonyms for "playful" include "lively," "fun-loving," "merry," "jovial," "cheerful," "jaunty," "spirited," "amusing," and "frolicsome." These words capture the sense of joy, liveliness, and inclination towards playfulness.
Antonyms
Antonyms for "playful" include "serious," "solemn," "stern," "grave," "earnest," "somber," and "reserved." These words describe behaviors or attitudes that are devoid of humor, amusement, or light-heartedness.
Contextual Usage
"Playful" can be used to describe various aspects, such as playful children, playful pets, playful banter, playful teasing, playful gestures, or a playful atmosphere.
Positive Attributes
Being playful is often associated with positive qualities like creativity, spontaneity, and a positive outlook on life. Playfulness can enhance social connections, foster imagination, and contribute to a sense of joy and well-being.
Developmental Importance
Playfulness is an essential aspect of child development, as it promotes cognitive, social, emotional, and physical growth. It helps build skills, encourages exploration, and facilitates learning.
Expressing Emotions
Playfulness can also be a way to express and communicate emotions, foster connection, and build relationships through shared experiences of joy and laughter.
Balance and Well-being
Incorporating playfulness into one's life can contribute to a balanced and enjoyable lifestyle. It can help alleviate stress, enhance creativity, and foster a sense of happiness and fulfillment.
FAQs(Frequently Asked Questions)
What does it mean to be playful?
To be playful means to engage in activities or behaviors that are lighthearted, fun, and full of joy. It involves a sense of spontaneity, humor, and a willingness to explore and enjoy playful interactions with others. Being playful can bring a sense of delight, laughter, and a positive outlook on life.
What is a word for a playful person?
A word for a playful person is "lively," which conveys a sense of energy, enthusiasm, and a propensity for fun and amusement. Other alternatives include "fun-loving," "jovial," or "cheerful," capturing the person's inclination towards playful interactions and a joyful demeanor.
What is the sentence of playful?
Here's an example sentence using the word "playful": "The children giggled and engaged in a playful game of tag, their laughter echoing through the park." This sentence portrays a joyful and lively scene where children are actively participating in a fun and lighthearted activity, creating a playful atmosphere filled with laughter and enjoyment.
What does most playful mean?
"Most playful" refers to the superlative degree of playfulness, indicating the highest level or greatest extent of being lively, cheerful, or inclined to engage in fun activities. It implies that among a group or set of individuals, the one described as "most playful" exhibits the most pronounced or noticeable playfulness in terms of energy, humor, or enjoyment.
Related