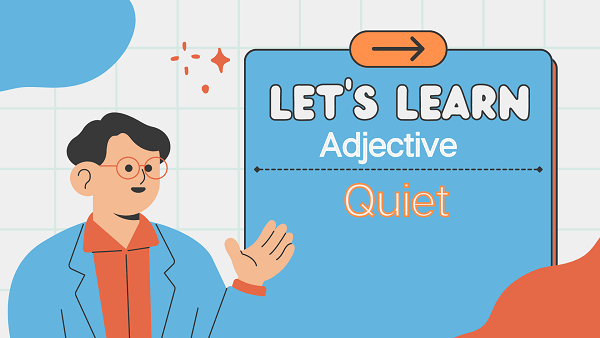 Casting Light on The Word 'Quiet'
Definition
"Quiet" is an adjective used to describe a state or condition of calmness, tranquility, or minimal noise. It refers to a situation or environment characterized by a lack of disturbance, commotion, or loud sounds.
Meaning
When we say something is "quiet," we mean that it is peaceful, silent, or not producing much noise. It can also describe someone's reserved or subdued behavior and is often associated with a sense of serenity and stillness.
Synonyms
Silent
Peaceful
Calm
Serene
Hushed
Noiseless
Tranquil
Muted
Antonyms
Noisy
Loud
Boisterous
Rowdy
Turbulent
Active
Energetic
Rambunctious
Importance of Qualified
The term "quiet" is essential in various aspects of life. In personal well-being, moments of quietness provide opportunities for relaxation, reflection, and mental clarity. In educational settings, a quiet environment can aid concentration and learning. Moreover, quietness is valuable in nature, allowing for the appreciation of its beauty and serenity.
FAQs(Frequently Asked Questions)
How is "quiet" different from "silent"?
"Quiet" and "silent" both refer to a lack of noise, but "silent" suggests a complete absence of sound, while "quiet" can still imply some background noise, though at a low level. For example, a library is usually quiet, but it might not be entirely silent.
Can "quiet" describe a person's personality or demeanor?
Yes, "quiet" can be used to describe a person's personality or demeanor if they are reserved, introverted, or not inclined to talk much. It does not necessarily mean shy or timid; instead, it denotes a sense of peacefulness in their behavior.
Why is "quiet" important in urban environments?
In urban environments, "quiet" is essential to provide relief from the constant hustle and bustle of city life. It allows people to find moments of peace and reduces the stress caused by noise pollution, creating a more pleasant and liveable atmosphere.
How does "quiet" contribute to creativity and productivity?
"Quiet" environments can enhance creativity and productivity by reducing distractions and interruptions. For many individuals, a quiet workspace or setting helps them focus better and encourages deeper thinking and problem-solving. It allows the mind to concentrate on tasks or creative endeavors without disruptions.
Continue To Explore A-Z Words