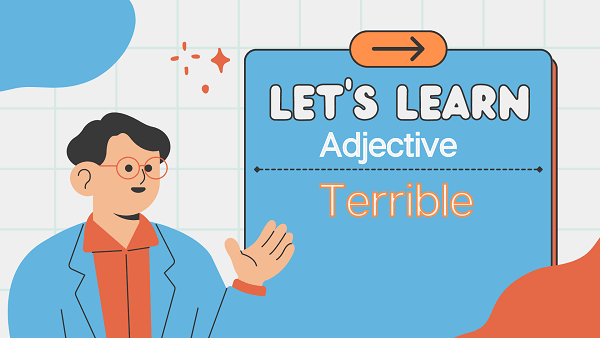 Casting Light on The Word 'Terrible'
Definition
"Terrible" is an adjective used to describe something that is extremely bad, dreadful, or causing great fear or horror. It indicates a severe or intense negative quality or impact.
Meaning
When something is referred to as "terrible," it suggests that it is exceptionally unpleasant, alarming, or distressing.
Synonyms
Horrible
Awful
Dreadful
Frightening
Horrifying
Appalling
Atrocious
Terrifying
Grim
Ghastly
Antonyms
Wonderful
Fantastic
Excellent
Superb
Splendid
Delightful
Amazing
Marvelous
Outstanding
Fabulous
Importance of Terrible
The importance of the word "terrible" can be observed in various aspects, including:
Emotional Impact
Describing something as terrible helps to convey the intensity of negative emotions and experiences, creating a strong emotional response in the listener or reader.
Caution and Warning
Using "terrible" to describe dangerous situations, events, or outcomes can serve as a warning to others, urging them to take precautions or avoid certain circumstances.
Aesthetic Expression
In literature, film, and other forms of art, the use of "terrible" allows artists to explore darker themes and evoke powerful emotions in their audience.
Critical Assessment
In reviews and critiques, the term "terrible" can be used to express severe disapproval or dissatisfaction with a particular product, performance, or work.
FAQs(Frequently Asked Questions)
Can "terrible" be used to describe a person?
Yes, "terrible" can be used to describe a person's behavior, actions, or character when they exhibit extremely negative traits or engage in harmful actions. However, it is essential to use such strong language judiciously and with consideration for its impact.
Is there a difference between "terrible" and "horrible"?
"Terrible" and "horrible" are often used interchangeably to describe something extremely bad or dreadful. While they share similar meanings, some may perceive "terrible" as conveying a stronger sense of fear or horror than "horrible."
Can "terrible" be used in a positive context?
In modern language usage, "terrible" is primarily employed to express negative experiences or qualities. However, in certain contexts, particularly in older literature or poetic language, "terrible" might have been used to convey awe-inspiring or overwhelming grandeur.
Is "terrible" a subjective term?
To some extent, the perception of what is considered "terrible" can be subjective, as individual experiences, values, and cultural backgrounds can influence how something is judged.
Continue To Explore A-Z Words