Casting Light on The Word 'Amazing'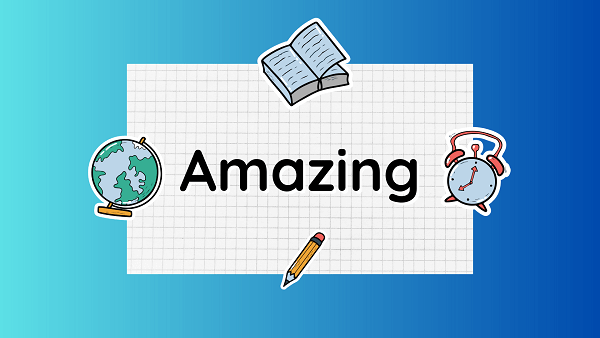 Definition
"Amazing" is an adjective that describes something or someone as causing astonishment, wonder, or admiration due to its exceptional or extraordinary qualities.
Origin
The word "amazing" originated from the verb "amaze," which derives from the Old English word "āmasian," meaning "to confuse or stupefy."
Synonyms
Some synonyms for "amazing" include astonishing, astounding, breathtaking, incredible, impressive, marvelous, spectacular, phenomenal, and stunning.
Usage
It is a versatile word that can be used to describe a wide range of experiences, events, objects, or people that evoke a sense of awe, surprise, or admiration.
Positive Connotation
"Amazing" generally carries a positive connotation and is commonly used to express enthusiasm, appreciation, or excitement about something noteworthy or exceptional.
Informal Usage
It is frequently used in casual or informal contexts to express excitement or approval, such as when describing a great meal, a thrilling movie, or an impressive accomplishment.
Popularity
It has gained significant popularity in modern language usage, often appearing in various forms of media and everyday conversation.
Intensifiers
To emphasize the degree of amazement, people often use intensifiers like "absolutely amazing," "truly amazing," or "mind-blowingly amazing."
Overuse
Due to its frequent use, some people argue that the word "amazing" has become overused or diluted, and suggest exploring alternative words to add variety and freshness to one's vocabulary.
Subjectivity
The perception of what is considered "amazing" can vary from person to person, as it is subjective and influenced by personal preferences, experiences, and cultural backgrounds.
What is a Better Word For Amazing?
There are several alternatives to the word "amazing" that you can use to express a similar sentiment. Here are some options:
Astonishing
Astounding
Breathtaking
Incredible
Impressive
Marvelous
Spectacular
Phenomenal
Extraordinary
Stunning
FAQs(Frequently Asked Questions)
What is one word for extremely amazing?
One word that can convey a sense of extreme amazement is "mind-blowing." This term suggests that something is so incredible or astonishing that it overwhelms and astounds the mind.
What is a sentence for Amazing?
The view from the mountaintop was absolutely amazing.
She gave an amazing performance that left the audience in awe.
I had an amazing time at the concert last night.
What does genuinely Amazing mean?
"Truly amazing" is a phrase used to emphasize the exceptional nature or quality of something. It indicates that the thing being described is genuinely remarkable, impressive, or awe-inspiring.
Continue To Explore A-Z Words