Casting Light on The Word 'Green'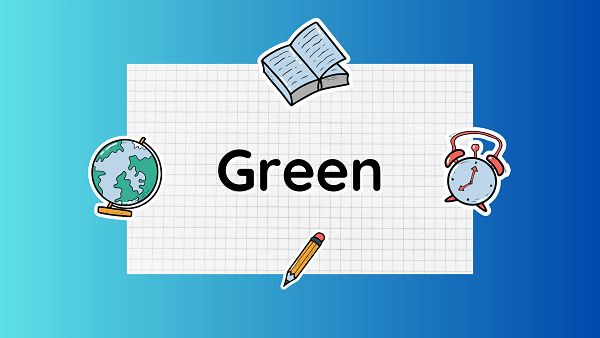 "Green" is a color associated with nature, growth, and environmental consciousness.
Definition
"Green" is one of the primary colors in the visible light spectrum, located between blue and yellow. It is often described as the color of fresh grass or leaves.
Symbolism
Green is commonly associated with nature, life, renewal, and growth. It represents vitality, fertility, and abundance. It can also symbolize freshness, harmony, balance, and environmental awareness.
Variations
There are different shades and variations of green, including lime green, emerald green, forest green, olive green, mint green, and more. Each shade may evoke different feelings or associations.
Synonyms
Some synonyms for "green" include verdant, leafy, grassy, lush, fresh, emerald, jade, and sylvan.
Environmental significance
"Green" is often used to represent environmental consciousness, sustainability, and eco-friendliness. It is associated with initiatives and practices aimed at reducing environmental impact and preserving natural resources.
Idioms and expressions
The word "green" is used in various idioms and expressions. Examples include "green with envy" (feeling jealous), "green thumb" (having a talent for gardening), and "green light" (permission to proceed).
Green in culture and symbolism
Holds cultural and symbolic significance in different contexts. For example, in some religions, green represents fertility, renewal, and spiritual growth. It is also associated with luck, particularly in Irish culture and the celebration of St. Patrick's Day.
Green in traffic signals
In many countries, a green light in traffic signals indicates permission to proceed or move forward.
Green as a metaphor
It can be used metaphorically to describe individuals who are new, inexperienced, or naive in a particular field or endeavor.
Green in fashion
It is a popular color in fashion and is often used to represent freshness, youthfulness, and a connection to nature.
Green in branding
Many companies use the color green in their branding to convey an eco-friendly or sustainable image. It is commonly associated with industries such as organic products, environmental organizations, and renewable energy.
Green in language
The word "green" is occasionally used in colloquial language to refer to money, particularly U.S. dollars.
Green as a chroma key color
In filmmaking and photography, the color green is often used as a chroma key or green screen background for special effects and compositing.
Green spaces
They refer to areas within urban environments that are covered with vegetation, such as parks, gardens, or forests. These spaces provide environmental and recreational benefits to communities.
Green is a personal preference
People may have personal preferences for the color green due to its calming, soothing, and refreshing qualities. It is often associated with feelings of relaxation and tranquility.
Continue To Explore A-Z Words