Casting Light on The Word 'Atheistic'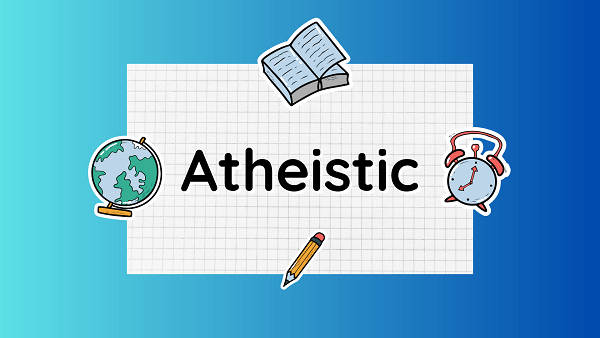 Definition
"Atheistic" is an adjective that describes something as relating to or characteristic of atheism. It refers to ideas, beliefs, or behaviors that align with or are associated with atheism.
Associated with Atheism
When something is described as atheistic, it means that it is related to or in accordance with atheistic principles, which involve a lack of belief in gods or the rejection of the existence of deities.
Cultural and Social Context
The term "atheistic" is often used to describe cultural or social phenomena that are non-religious or secular in nature. For example, atheistic societies or atheistic philosophies refer to those that are not influenced by religious beliefs or practices.
Atheistic Philosophies
Atheistic ideas and philosophies have been developed throughout history. Some examples include secular humanism, naturalism, rationalism, and existentialism. These philosophies often emphasize reason, science, ethics, and human values without the need for religious or supernatural beliefs.
Art and Literature
Atheistic themes can be found in various forms of art, literature, and media. Atheistic works may explore existential questions, critique religious institutions, or present alternative perspectives on life, morality, and meaning.
Ethics and Morality
Atheistic perspectives often involve the development of ethical frameworks based on secular values and humanistic principles. Atheists may derive moral guidance from sources such as reason, empathy, social norms, and philosophical considerations.
Debates and Controversies
Atheism and atheistic ideas can be a subject of debate and controversy, particularly in relation to religious beliefs and practices. Discussions may center around the existence of gods, the origins of morality, the meaning of life, and the role of religion in society.
Representation and Community
Atheistic individuals often seek representation and form communities to share ideas, provide support, and promote secular values. Atheist organizations and groups advocate for the rights of non-religious individuals and work toward fostering understanding and acceptance in society.
Freedom of Belief
Atheistic perspectives are often aligned with the promotion of freedom of thought, freedom of belief, and the separation of church and state. Atheists may advocate for the secularization of public institutions and the elimination of religious privilege in legal and political systems.
Diversity within Atheism
Like any broad term, atheism encompasses a range of viewpoints and beliefs. Atheistic individuals may differ in their level of certainty about the non-existence of gods, their reasons for rejecting religious beliefs, and their engagement with philosophical or scientific perspectives.
Continue To Explore A-Z Words