Casting Light on The Word 'Adequate'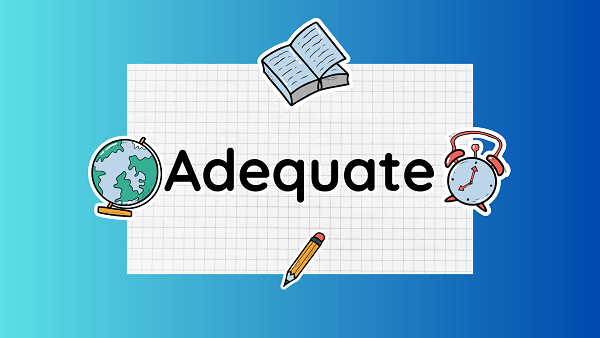 Definition
"Adequate" is an adjective that describes something as being sufficient, satisfactory, or suitable for a particular purpose. It suggests that the item or condition being described meets a minimum requirement or expectation.
Synonyms
Some synonyms for "adequate" include sufficient, satisfactory, acceptable, appropriate, satisfactory, suitable, enough, and competent.
Antonyms
Some antonyms are inadequate, insufficient, insufficient, unsatisfactory, inadequate, insufficient, and lacking.
Usage
It is commonly used to describe the level or quality of something in relation to a specific standard or requirement. It can be used to assess various aspects such as quantity, quality, performance, preparation, resources, or capabilities.
Examples
"The company implemented adequate safety measures to protect its employees."
"The schoolboy had adequate time to complete the assignment."
Contextual Nature
It is relative and dependent on the context or specific requirements of a situation. What may be considered adequate in one context may not be sufficient in another.
Subjectivity
The perception of what is considered "adequate" can vary among individuals or groups, as it is influenced by personal expectations, standards, or specific criteria.
Measurement
The determination of adequacy often involves assessing a specific standard, requirement, or benchmark. It may involve comparing against predefined criteria or evaluating performance relative to a desired outcome.
Legal and Regulatory Context
In certain fields, such as law and regulations, "adequate" may have specific meanings or requirements. For instance, data protection laws may require organizations to provide "adequate" security measures to safeguard personal information.
Constant Evaluation
The concept of adequacy is dynamic and subject to change over time. What may have been considered adequate in the past may no longer meet current needs or expectations. Regular evaluation and reassessment are often necessary.
Continue To Explore A-Z Words