Casting Light on The Word 'Abiding'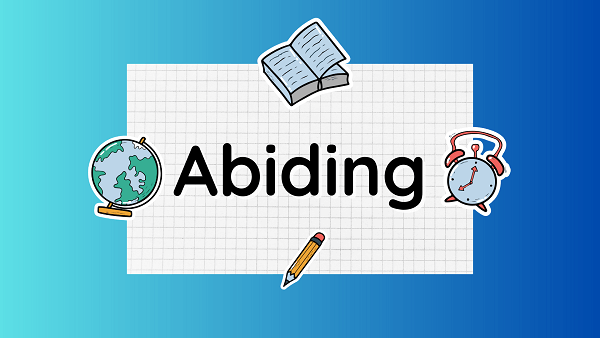 Definition
"Abiding" is an adjective that means lasting, enduring, or continuing without change. It describes something that remains steadfast or persistent over time.
Etymology
The word "abiding" originates from the Middle English word "abide," which means "to wait, remain, or endure." It is related to the Old English word "bīdan" and the German word "behalten."
Usage
It is commonly used as an adjective to describe a quality or characteristic that remains constant or unchanging. It can refer to physical objects, concepts, principles, or personal attributes.
Synonyms
Some synonyms for "abiding" include enduring, lasting, permanent, steadfast, unchanging, persistent, constant, and steadfast.
Examples
"My relation with friends was built on a foundation of abiding trust and mutual respect."
"The author had an abiding love for literature, which was evident in all her works."
"Despite the challenges, their abiding faith kept them hopeful and determined."
Her abiding memory was that she was anxious to get on.
Time Sensitivity
The term "abiding" implies a sense of longevity or permanence. It suggests that something has endured or is expected to endure over an extended period rather than being temporary or fleeting.
Legal Usage
In legal contexts, the term "abiding" can be used to refer to a person's compliance with the law or their ongoing adherence to certain rules or conditions.
Use in Literature and Religion
It is commonly used in literature, poetry, and religious texts to convey ideas of constancy, faithfulness, and enduring truths. It is often associated with moral or spiritual values.
Positive Connotations
"Abiding" typically carries positive connotations, suggesting reliability, steadfastness, and a sense of enduring strength or virtue.
Continue To Explore A-Z Words