Casting Light on The Word 'Fancy'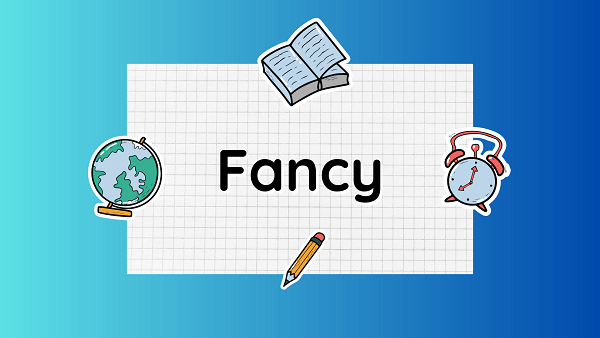 Definition
We can define "Fancy" as an adjective that describes something as elaborate, decorative, or ornate. It suggests a sense of elegance, luxury, or sophistication.
Style and aesthetics
When something is described as fancy, it often implies a high level of aesthetics, refinement, or artistic quality. It can be used to describe fashion, design, architecture, or any other visually appealing aspect.
Desire and preference
"Fancy" can also convey a sense of desire or preference for something. For example, if you fancy a particular item or experience, it means you have a liking or attraction toward it.
Imaginative or whimsical
The term "fancy" can also refer to something imaginative, whimsical, or fantastical. It implies a sense of creativity or playfulness.
Synonyms
Synonyms for "fancy" include elegant, ornate, stylish, sophisticated, luxurious, decorative, and elaborate.
Usage in British English
In British English, "fancy" is commonly used to mean "like" or "desire." For example, saying "I fancy a cup of tea" means "I would like a cup of tea."
Context-dependent
The meaning of "fancy" can vary depending on the context and the way it is used. It can describe appearance, preference, imagination, or even an attraction toward someone.
FAQs(Frequently Asked Questions)
When can I use fancy?
You can use the word "fancy" when describing something as elaborate, decorative, or visually appealing. It can also be used to express desire or preference for something or to refer to something imaginative or whimsical.
What are the different words for fancy?
Different words for "fancy" include elegant, ornate, stylish, sophisticated, luxurious, decorative, elaborate, and whimsical. These words convey a similar sense of aesthetic appeal or preference for something visually pleasing or imaginative.
How do you use fancy slang?
When using fancy slang, incorporate trendy or fashionable words, phrases, or expressions that are popular among a specific group or subculture. Be aware of the context and audience to ensure the slang is appropriate and understood by those you're communicating with.
What does fancy mean in vocabulary?
In vocabulary, "fancy" refers to the use of elaborate, complex, or uncommon words and expressions to convey a more sophisticated or elevated style of speaking or writing. It emphasizes the use of rich and distinctive language to enhance communication.
Related