Casting Light on The Word 'Flawless'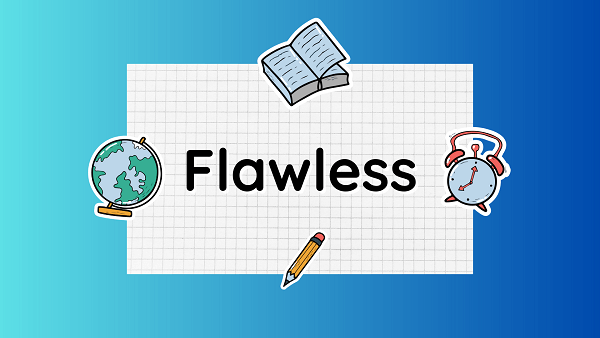 Definition
"Flawless" is an adjective that describes something or someone without any flaws, imperfections, or errors. It signifies perfection or the absence of blemishes.
Synonyms
Some synonyms for "flawless" include perfect, impeccable, pristine, faultless, unblemished, seamless, and exemplary.
Characteristics
When something is described as flawless, several characteristics are implied:
Perfection
It suggests a state of being free from any mistakes, defects, or shortcomings.
Precision
Flawlessness often indicates precision, attention to detail, and a high level of craftsmanship or execution.
Purity
 It can convey a sense of purity or untarnished quality, whether it pertains to physical appearance, performance, or other aspects.
Usage
The term "flawless" is commonly used to describe a wide range of subjects:
Beauty and Appearance
It is often used to describe someone's physical appearance, particularly flawless skin or flawless makeup.
Performance
It can refer to flawless execution or performance in various fields such as sports, music, dance, or acting.
Objects and Artifacts
Flawless can be used to describe items that are perfectly crafted, without any imperfections or faults.
Positive Connotation
"Flawless" carries a positive connotation, suggesting excellence, mastery, or an exceptionally high standard.
Cultural References: The word "flawless" is frequently used in popular culture, literature, and entertainment as a marker of exceptional quality, talent, or beauty.
FAQs(Frequently Asked Questions)
How can I use flawless?
You can use "flawless" to describe something or someone that is without any imperfections or errors. For example, Ali's performance was flawless".
Can I use flawless on my face?
While "flawless" is often used to describe the appearance of someone's face, it is subjective and depends on individual perceptions of what constitutes flawlessness.
How do you use flawless legs?
The phrase "flawless legs" is commonly used to describe legs that appear perfect or without imperfections. For example, you could say, "She confidently showed off her flawless legs in the short dress."
Related