Casting Light on The Word 'Generous'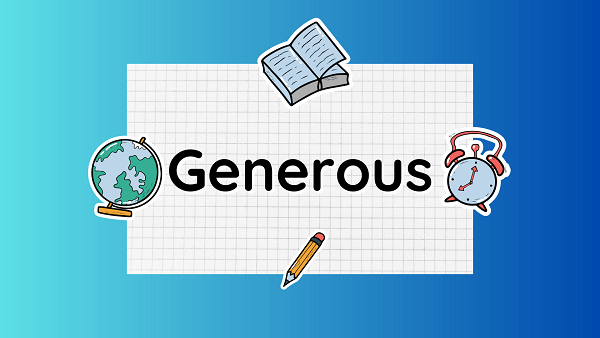 Definition
"Generous" refers to a person who shows a readiness to give, offer, or share with others. It implies a willingness to go beyond what is required or expected in terms of kindness, charity, or resources.
Synonyms
Some common synonyms for "generous" include benevolent, magnanimous, charitable, big-hearted, giving, liberal, philanthropic, openhanded, unselfish, and munificent.
Antonyms
Antonyms for "generous" include stingy, selfish, greedy, tightfisted, ungenerous, and mean.
Parts of speech
"Generous" primarily functions as an adjective but can also be used as an adverb or noun in certain contexts.
Adjective usage
As an adjective, "generous" describes the qualities, behavior, or actions of a person.
Adverb usage
As an adverb, "generously" modifies verbs, adjectives, or other adverbs to indicate an action performed with generosity or to a considerable extent. For instance, "He generously shared his knowledge," "She smiled generously," or "They donated generously to the cause."
Noun usage
As a noun, "generous" can refer to a person who displays generosity or the act of being generous. For example, "He is known as generous in the community," or "Her generosity was appreciated by all."
Collocations
"Generous" frequently collocates with various words to form common expressions and idioms. Examples include "generous heart," "generous spirit," "generous offer," "generous gesture," "generous soul," "generous portion," "generous nature," and "generous benefits."
Generosity as a virtue
"Generous" is often regarded as a positive trait and is associated with kindness, compassion, and a willingness to help others.
Material and non-material generosity
"Generous" can refer to both material acts of giving, such as donating money or possessions, as well as non-material acts, such as giving time, support, or emotional assistance.
Generous in spirit
When someone is described as "generous in spirit," it suggests that they have a broad and magnanimous mindset, extending kindness and understanding to others.
Generous rewards
It can refer to significant benefits, compensation, or recognition provided for a particular effort or achievement.
Generous with praise
Being "generous with praise" means freely and sincerely acknowledging and appreciating the accomplishments or qualities of others.
Generous hospitality
"Generous hospitality" refers to providing a warm and welcoming environment for guests, where their needs and comforts are catered to.
Cultivating generosity
Generosity can be cultivated by developing a mindset of abundance, empathy, and a genuine desire to make a positive impact on others' lives.
FAQs(Frequently Asked Questions)
What does a generous person mean?
A generous person is someone who willingly and selflessly gives, shares, or provides for others, often going beyond what is expected or required. They display kindness, open-heartedness, and a willingness to help others without expecting anything in return.
Who is called generous?
A person is called generous when they consistently exhibit a willingness to give, share, or help others, often without expecting anything in return. They are known for their acts of kindness and selflessness
What word is similar to generous?
A word similar to "generous" is "benevolent." Both words convey the idea of being kind, giving, and showing goodwill towards others.
Does generous mean nice?
While generosity and niceness can often go hand in hand, "generous" and "nice" are not synonymous. "Generous" primarily refers to a willingness to give, share, or provide, while "nice" typically implies pleasantness, kindness, or amiability in one's behavior or character.
Related