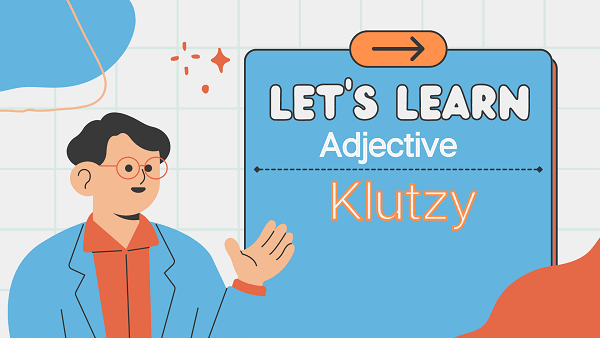 Casting Light on The Word 'Klutzy'
Definition
"Klutzy" is an adjective that describes someone who is clumsy, awkward, or lacking coordination. It suggests a tendency to trip, stumble, or make accidental mistakes while moving or performing tasks.
Lack of Coordination
A klutzy person often experiences difficulty in coordinating their movements, resulting in accidents or mishaps. They may struggle with balance, fine motor skills, or spatial awareness.
Tripping or Bumping
The term "klutzy" implies a propensity for tripping, stumbling, or bumping into objects or people due to a lack of coordination or body control.
Accident-Prone
Klutzy individuals are often seen as accident-prone or more likely to experience minor accidents or mishaps. They may drop things, knock over objects, or struggle with basic physical tasks.
Awkwardness
"Klutzy" can also refer to a general sense of awkwardness or lack of grace in social interactions. It may suggest a tendency to feel uncomfortable or unsure in social situations.
Synonyms
Synonyms for "klutzy" include "clumsy," "awkward," "ungainly," "uncoordinated," "bumbling," and "inept." These words describe a lack of physical or social grace.
Antonyms
Antonyms for "klutzy" include "graceful," "coordinated," "dexterous," "nimble," and "elegant." These words convey the opposite qualities of being physically or socially adept.
Self-Awareness
Some individuals may embrace their klutziness as a part of their personality or sense of humor, finding it endearing or charming. Others may feel self-conscious or frustrated by their lack of coordination.
Contextual Usage
"Klutzy" is commonly used in informal or colloquial language to describe someone's physical or social clumsiness. It is often used in a light-hearted or affectionate manner.
Acceptance and Support
It is important to approach individuals who are klutzy with empathy, understanding, and support. Offering assistance or being patient can help them navigate physical tasks or social situations more comfortably.
FAQs(Frequently Asked Questions)
Is it clumsy or klutzy?
Both "clumsy" and "klutzy" refer to a lack of coordination or a tendency to be awkward or uncoordinated. "Clumsy" is a more common term, while "klutzy" has a slightly informal or colloquial tone.
Is klutzy an English word?
Yes, "klutzy" is an English word. It is an informal term used to describe someone who is clumsy or lacks coordination.
What's another word for klutzy?
Another word for "klutzy" is "awkward," which describes a lack of coordination or grace in movement. It conveys a similar idea of clumsiness or ineptness.
What is klutz slang?
In slang, "klutz" is a term used to describe someone who is clumsy or lacks coordination. It is an informal and often affectionate way to refer to someone's clumsiness.
Related