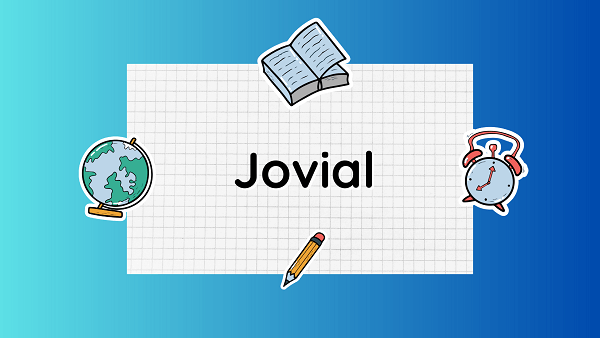 Casting Light on The Word 'Jovial'
Definition
"Jovial" is an adjective that describes someone or something as being cheerful, friendly, and full of good humor. It suggests a jovial nature that is marked by an easygoing and joyful demeanor.
Derived from Jupiter
The term "jovial" is derived from the Latin word "jovial," which means "pertaining to Jupiter." Jupiter was the Roman god associated with joy, merriment, and good fortune, and "jovial" captures the positive qualities associated with this deity.
Good-Natured and Merry
Jovial individuals are typically good-natured, affable, and fond of laughter. They have a natural inclination to create a pleasant and enjoyable atmosphere, often through their humor, jokes, and lighthearted banter.
Sociable and Approachable
Jovial people are often sociable and approachable, making others feel at ease in their presence. They have a talent for connecting with others, fostering positive relationships, and spreading happiness.
Positive Outlook
Jovial individuals tend to have a positive outlook on life, finding joy in everyday experiences and interactions. They often see the bright side of situations and have a resilience that allows them to overcome challenges with optimism.
Festive and Celebratory
Joviality is often associated with festivities, celebrations, and joyful occasions. Jovial individuals can contribute to the festive atmosphere by their presence, engaging in lively conversations, and adding a sense of merriment to the gathering.
Synonyms
Synonyms for "jovial" include "cheerful," "merry," "lighthearted," "joyful," "amiable," and "good-humored." These words capture the same essence of a positive, cheerful, and friendly disposition.
Cultural Variations
The perception and expression of joviality can vary across cultures. Different societies may have their own styles of humor and manifestations of good-natured behavior.
Literary References
The term "jovial" has been used in literature, poetry, and storytelling to depict characters or scenes that embody a joyful and cheerful spirit. It is often associated with descriptions of laughter, happiness, and conviviality.
Personal and Professional Benefits
Embracing a jovial attitude can have personal and professional benefits. It can contribute to overall well-being, enhance social connections, promote team morale, and create a positive work environment.
FAQs(Frequently Asked Questions)
What does a jovial person mean?
A jovial person is someone who is cheerful, friendly, and full of good humor. They have a natural inclination to create a pleasant and enjoyable atmosphere, often through their lightheartedness, laughter, and positive demeanor.
What are 3 synonyms for jovial?
Three synonyms for "jovial" are "cheerful," "merry," and "lighthearted." These words convey a similar sense of being happy, friendly, and full of good humor.
What is a jovial girl?
A jovial girl is a cheerful, friendly, and lighthearted young woman. She radiates positivity, has infectious laughter, and brings joy to those around her.
What is a jolly person called?
A jolly person can be called "cheerful," "merry," or "lighthearted." These terms describe someone who is consistently happy, and positive and often brings a sense of joy and laughter to others.
Related