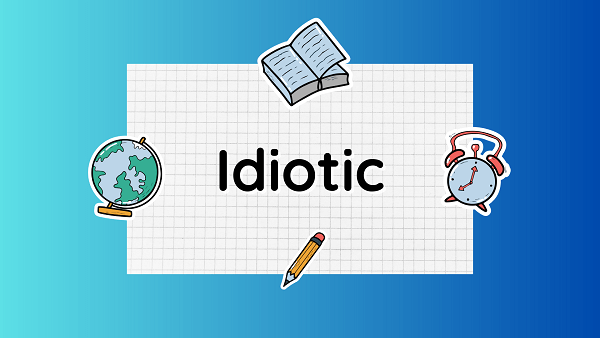 Casting Light on The Word 'Idiotic'
Meaning
When used as an adjective, "idiotic" describes behavior, actions, or ideas that are considered extremely foolish, senseless, or unintelligent. It implies a lack of rationality or sound judgment.
Derogatory Nature
"Idiotic" is a derogatory term that is generally used to criticize or insult someone's intelligence or decision-making abilities. It can be perceived as offensive or disrespectful, so it is important to use it with caution and considerate language.
Synonyms
Some synonyms for "idiotic" include foolish, unintelligent, senseless, absurd, ridiculous, silly, stupid, moronic, and brainless.
Antonyms
Antonyms for "idiotic" include intelligent, wise, sensible, rational, astute, clever, and smart.
Usage and Context
"Idiotic" is typically used to describe behaviors, actions, statements, or ideas that are considered extremely foolish, irrational, or lacking in common sense. It is often employed in informal or colloquial language to express strong disapproval or disdain.
Subjectivity
The perception of what is considered "idiotic" can vary from person to person, as it is subjective and influenced by individual perspectives, cultural norms, and social context. What may be seen as idiotic by one person might not be perceived the same way by another.
Etymology
The term "idiotic" originated from the Greek word "idiotes," which initially referred to a private citizen or layperson. Over time, its meaning evolved to denote someone lacking professional skill or expertise, eventually acquiring the negative connotation of foolishness.
Sensitivity
Due to its derogatory nature, it is essential to exercise sensitivity and respect when discussing or using the term "idiotic." It is generally more appropriate and constructive to focus on addressing behavior or ideas rather than resorting to personal insults.
FAQs(Frequently Asked Questions)
What is a synonym for idiotic?
A synonym for "idiotic" is "foolish."
What is idiocy thinking?
The term idiocy is based on the meanings of the individual words, "idiocy thinking" could refer to a pattern of thought characterized by foolishness, irrationality, or lacking of common sense. It could imply a way of thinking that is perceived as unintelligent or lacking logical reasoning.
Related