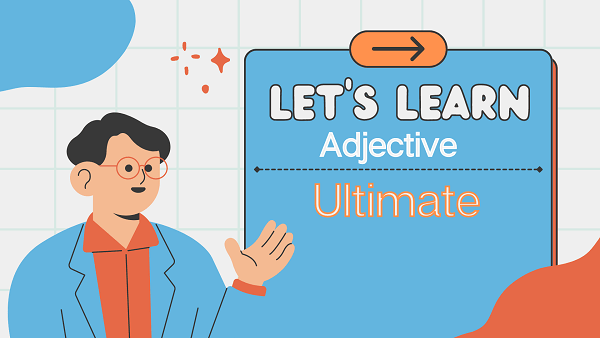 Casting Light on The Word 'Ultimate'
Definition
Being the final or highest stage of development; the best, most extreme, or supreme in a series or category.
Meaning
When something is described as "ultimate," it means that it is the last or highest stage of development or the best and most superior among others in a particular series, category, or context.
Synonyms
Supreme
Highest
Best
Greatest
Finest
Optimal
Final
Last
Consummate
Definitive
Antonyms
Lowest
Worst
Initial
Beginning
Inadequate
Mediocre
Ordinary
Common
Substandard
Inferior
Importance of Ultimate
Understanding the concept of "ultimate" is important in various contexts:
Goal Setting and Achievement
Aspiring for ultimate goals can motivate individuals and teams to strive for excellence and reach their fullest potential.
Product Development and Innovation
Creating ultimate products means delivering the best and most advanced solutions to meet customers' needs and surpass competitors.
Sports and Competition
Achieving the ultimate victory or becoming the ultimate champion is often the pinnacle of success in sports and competitive activities.
Decision Making
Identifying the ultimate solution or choice can lead to the most favorable outcome or the most optimal decision.
FAQs(Frequently Asked Questions)
Is "ultimate" always related to the best or highest level of something?
Yes, "ultimate" generally refers to the best, highest, or final stage of something, whether it's the ultimate achievement, ultimate goal, or ultimate solution.
Can "ultimate" be subjective or context-dependent?
Yes, the perception of what is ultimate can be subjective and context-dependent. What may be considered ultimate in one context may not hold the same significance in another.
Can the concept of "ultimate" be applied to personal growth?
Yes, the concept of ultimate can be applied to personal growth and self-improvement. Setting and achieving ultimate goals can be a powerful way to realize one's potential and achieve significant accomplishments.
Is there a difference between "ultimate" and "optimal"?
While both "ultimate" and "optimal" refer to the best or most favorable, "ultimate" often emphasizes the highest level or final stage, while "optimal" focuses on the most advantageous or efficient option given a particular situation or context.
Continue To Explore A-Z Words