Casting Light on The Word 'Admired'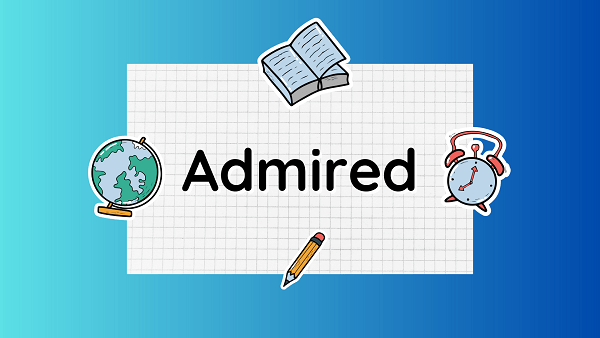 Here are some complete facts about the word "admired":
Definition
"Admired" is the past participle form of the verb "admire." It means to regard someone or something with respect, approval, or esteem, often due to their qualities, achievements, or actions.
Synonyms
Esteemed, respected, revered, honored, looked up to, venerated.
Antonyms

Disliked, scorned, despised, reviled.
Usage

"Admired" is typically used to describe the feelings or regard one has for another person or thing. It conveys a sense of high regard and positive evaluation.
Emotional Response
When you admire someone or something, you experience a positive emotional response characterized by respect, appreciation, or inspiration.
Qualities and Actions
"Admired" is often associated with individuals who possess admirable qualities or who have accomplished noteworthy achievements. It can also stem from appreciating someone's actions or behavior.
Inspiration and Influence
People who are admired often serve as a source of inspiration or influence due to their character, achievements, skills, or contributions.
Role Models
Admired individuals are often seen as role models, as their qualities or accomplishments are viewed as desirable or worth emulating.
Personal Preferences
The people or things that one admires can vary greatly based on personal preferences, values, and interests.
FAQs(Frequently Asked Questions)
What does so admired mean?
"So admired" is a phrase that describes a person or thing being highly regarded, respected, or esteemed by others. When someone is "so admired," it means they have gained a significant amount of admiration and appreciation from a considerable number of people.
What is the other word for admire?
Here are some alternatives:
Respect
Esteem
Adore
Reverence
Idolize
Honor
Look up to
Appreciate
Value
Applaud
How do you use the word admire?
Here are a few examples of how to use the word "admire" in sentences:
I admire her determination and perseverance.
We all admire his talent as a musician.
She admires her parents for their hard work and sacrifice.
He is widely admired for his humanitarian efforts.
I truly admire the way she handles difficult situations.
Continue To Explore A-Z Words