Casting Light on The Word 'Enthusiastic'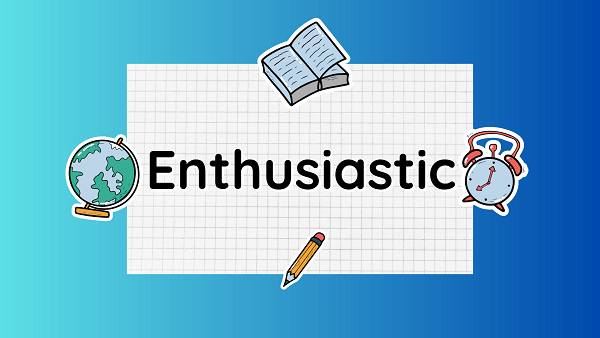 Definition
"Enthusiastic" is an adjective that conveys a high level of excitement, eagerness, or passion for a particular activity, interest, or goal. It suggests a genuine and wholehearted enthusiasm.
Synonyms
Some synonyms for "enthusiastic" include excited, eager, passionate, fervent, zealous, spirited, thrilled, and motivated.
Antonyms
Antonyms for "enthusiastic" include apathetic, indifferent, uninterested, uninspired, and dispassionate.
Etymology
The word "enthusiastic" originated from the Greek word "enthusiastic's," which means "inspired" or "possessed by a god." It reflects the idea of being filled with a divine or inspired energy.
Usage as an Adjective
"Enthusiastic" typically functions as an adjective, modifying nouns to describe individuals, actions, or attitudes that exhibit a strong and genuine excitement or passion. For example, "an enthusiastic supporter," "an enthusiastic response," or "an enthusiastic performer."
Positive Attitude
Being enthusiastic is associated with a positive and optimistic attitude toward a specific endeavor. It often leads to increased motivation, dedication, and an eagerness to actively participate and contribute.
Energy and Zeal
Enthusiasm is characterized by a vibrant energy and fervor that drives individuals to wholeheartedly engage in activities, pursue goals, and share their passion with others.
Inspiration and Influence
Enthusiastic individuals can inspire and motivate those around them. Their enthusiasm is infectious, often creating a positive atmosphere and encouraging others to become engaged and excited as well.
Personal and Professional Growth
Being enthusiastic can contribute to personal and professional growth by fostering a proactive and optimistic mindset, enhancing creativity and problem-solving abilities, and increasing perseverance in the face of challenges.
Expression and Engagement
Enthusiasm is often expressed through verbal and non-verbal cues, such as energetic speech, gestures, a positive tone of voice, and an overall sense of excitement and engagement.
Remember that enthusiasm can be contagious and influential, making it a valuable trait that can contribute to personal fulfillment, teamwork, and success in various endeavors.
FAQs(Frequently Asked Questions)
What does being enthusiastic mean?
Being enthusiastic means having a strong and genuine excitement, passion, or eagerness for a particular activity, interest, or goal, often leading to increased motivation, dedication, and positive engagement
Who is an enthusiastic person?
An enthusiastic person is someone who demonstrates genuine and contagious excitement, passion, and eagerness in their actions, words, and attitude, inspiring and motivating others with their enthusiasm.
What are 3 synonyms for enthusiastic?
Three synonyms for "enthusiastic" are excited, passionate, and fervent, all of which convey a strong and genuine enthusiasm, eagerness, or zeal for something.
How can I use enthusiasm in a sentence?
Her enthusiasm for the project was evident as she eagerly shared her ideas and volunteered to take on additional tasks. The students approached the science experiment with enthusiasm, eagerly participating and asking insightful questions.
Related