Casting Light on The Word 'Elegant'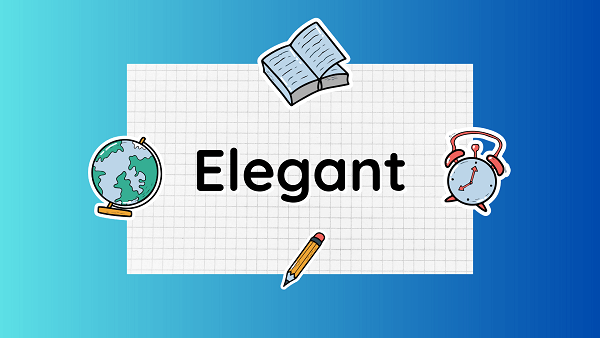 Definition
"Elegant" is an adjective that describes something as tasteful, graceful, stylish, refined, or characterized by beauty and sophistication. It suggests a sense of simplicity, harmony, and excellence in appearance, behavior, or design.
Synonyms
Some synonyms for "elegant" include stylish, sophisticated, graceful, refined, chic, classy, tasteful, polished, and exquisite.
Antonyms
Antonyms for "elegant" include clumsy, awkward, inelegant, gaudy, tacky, and garish.
Etymology
It originated from the Latin word "elegant," which meant "choice" or "excellent." It has evolved over time to encompass a sense of refined beauty and tastefulness.
Usage as an Adjective
Primarily functions as an adjective, modifying nouns to describe objects, actions, or people characterized by grace, refinement, or sophistication. For example, "an elegant dress," "an elegant solution," or "an elegant dancer."
Aesthetic Appeal
It often conveys a sense of beauty, harmony, and balance in design or appearance. It implies an understated and timeless attractiveness that goes beyond mere ornamentation.
Behavioral Elegance
Beyond physical appearance, "elegant" can also describe someone's behavior or manners. It suggests a poised and graceful demeanor, characterized by tact, charm, and sophistication.
Elegance in Language
It can describe language or writing that is stylish, well-crafted, and expressive. It suggests a thoughtful and effective use of words, with a focus on clarity, precision, and sophistication.
Elegance in Mathematics and Science
It is used to describe solutions, proofs, or theories that are simple, concise, and intellectually satisfying. It implies an elegant solution that achieves a desired outcome with minimal complexity or effort.
Subjective Interpretation
The perception of what is "elegant" can vary among individuals and across different cultures and contexts. What one person finds elegant, another might not. Factors such as personal taste, cultural norms, and individual experiences can influence the interpretation of elegance.
FAQs(Frequently Asked Questions)
What does it mean to be elegant?
To be elegant means to possess tasteful and refined qualities, characterized by grace, sophistication, and stylish simplicity. It conveys a sense of beauty, harmony, and excellence in appearance, behavior, or design.
What is elegant beauty?
Elegant beauty refers to a refined and sophisticated aesthetic characterized by grace, poise, and tastefulness, exhibiting a harmonious blend of simplicity and excellence in appearance. It embodies a timeless and understated allure that captivates with its subtle charm and refinement.
What's a better word than elegant?
One word that can be used as a synonym for "elegant" is "graceful," which conveys a similar sense of beauty, refinement, and sophistication. It suggests a harmonious and poised quality that is pleasing to the eye or mind.
What is the sentence elegant?
Related