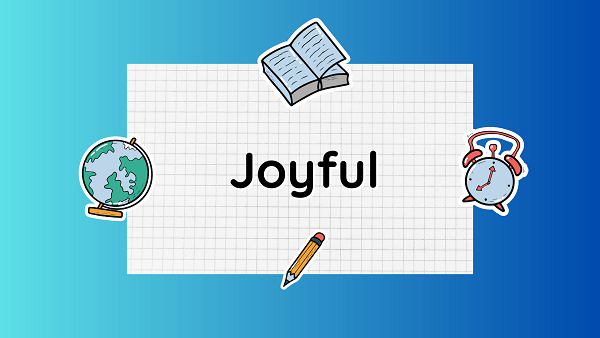 Casting Light on The Word 'Joyful'
Definition
"Joyful" is an adjective that describes a state of experiencing or expressing great happiness, delight, or pleasure. It conveys a deep sense of joy and contentment.
Positive Emotion
Joyfulness is associated with intense positive emotions, a sense of elation, and a feeling of being uplifted. It goes beyond mere happiness and often implies a profound and lasting sense of well-being.
Inner Happiness
Joyful individuals possess an inner happiness that radiates from within. They often have a positive outlook on life and find joy in even the simplest things.
Expressed in Various Ways
Joy can be expressed in different ways, such as through laughter, smiles, exuberant behavior, or a general sense of lightness and warmth. Joyful people often spread their happiness to others.
Deeply Felt
Joyful moments are often deeply felt and can be brought about by various factors, such as personal achievements, meaningful connections, or experiencing moments of beauty, love, or gratitude.
Spiritual and Philosophical Significance
Joy has been explored in religious, spiritual, and philosophical contexts as a profound state of being connected to one's true self, others, or a higher power.
Synonyms
Synonyms for "joyful" include "blissful," "delighted," "ecstatic," "exhilarated," "elated," and "gleeful." These words capture the same sense of intense happiness and delight.
Antonyms
Antonyms for "joyful" include "sorrowful," "gloomy," "miserable," "dejected," and "saddened." These words describe a state of sadness or unhappiness.
Inspiring Creativity
Joyful experiences can inspire creativity and a sense of playfulness. They often stimulate a positive and open mindset, allowing for increased imagination and innovation.
Personal and Collective Joy
Joyful experiences can be both personal and collective. Personal joy is felt individually, while collective joy can be experienced as a shared emotion during celebrations, gatherings, or events that bring people together.
FAQs(Frequently Asked Questions)
What is a joyful person?
A joyful person is someone who consistently exudes happiness, delight, and contentment. They have a positive outlook on life, find joy in simple pleasures, and radiate a sense of inner happiness. They often spread their positivity to others and have a contagious effect on the people around them.
What is another word for joyful?
Another word for "joyful" is "blissful," which conveys a state of extreme happiness and contentment. It signifies a profound sense of joy and fulfillment.
What is a joyful feeling?
A joyful feeling is a state of deep happiness and delight. It encompasses a sense of elation, contentment, and a profound inner joy that can be experienced in response to positive events, experiences, or emotions.
How do you use joyful?
"She had a joyful expression on her face as she unwrapped the gift."
Related