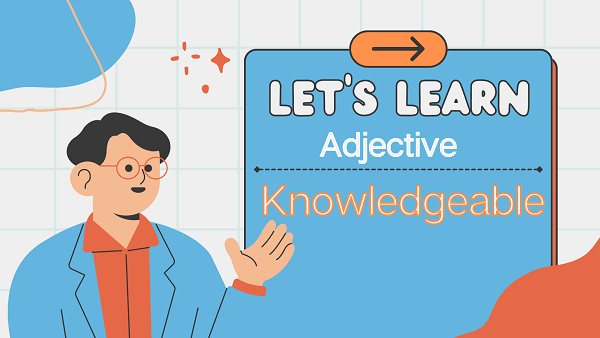 Casting Light on The Word 'Knowledgeable'
Definition
"Knowledgeable" is an adjective used to describe someone who possesses a wide range of knowledge or expertise in a particular field or multiple areas. It suggests that the person is well-informed, educated, and has a deep understanding of a subject matter.
Extensive Knowledge
"Knowledgeable" indicates that an individual has acquired significant information, facts, or expertise in a specific domain. They possess a broad understanding and awareness of the topic or topics they are knowledgeable about.
Intellectual Capacity
The term implies intellectual competence and a capacity for understanding complex concepts, theories, or practical aspects of a subject. It suggests the ability to apply acquired knowledge effectively.
Synonyms
Synonyms for "knowledgeable" include "informed," "well-versed," "learned," "expert," "proficient," "experienced," and "educated." These words convey a similar sense of possessing extensive knowledge or expertise.
Antonyms
Antonyms for "knowledgeable" include "ignorant," "uninformed," "inexperienced," "unfamiliar," or "novice." These words describe a lack of knowledge or expertise in a particular area.
Contextual Usage
"Knowledgeable" is used to describe individuals who have expertise in various fields, such as academics, professions, hobbies, or specific subjects. It is also used to refer to someone who is well-read or well-versed in a wide range of topics.
Continuous Learning
Being knowledgeable does not imply that an individual has a finite or absolute level of knowledge. It suggests a commitment to ongoing learning, staying up-to-date, and expanding one's knowledge base.
Recognizing Limits
Being knowledgeable also entails recognizing the limits of one's knowledge and acknowledging areas where further learning or research is necessary. It reflects an understanding of the scope and boundaries of one's expertise.
Personal and Professional Advantages
Being knowledgeable in a particular field can provide personal satisfaction, enhance career prospects, and enable individuals to contribute meaningfully to discussions, problem-solving, or decision-making.
Validation through Education or Experience
Knowledge can be acquired through formal education, practical experience, self-study, or a combination of these. The level of knowledge and expertise may vary based on the extent of exposure, depth of understanding, and validation through recognized qualifications or achievements.
FAQs(Frequently Asked Questions)
What is a synonym for knowledgeable?
A synonym for "knowledgeable" is "well-informed," which conveys a similar meaning of possessing extensive knowledge or expertise. It suggests being educated and informed about a subject or multiple areas.
What does knowledgeable mean?
"Knowledgeable" means having a deep understanding and expertise in a particular subject or multiple areas, indicating a high level of knowledge and information. It refers to being well-informed, educated, and possessing significant expertise in a specific field or subject.
What are knowledgeable examples?
Examples of knowledgeable individuals include:
A professor who has conducted extensive research in their field and possesses a wealth of knowledge on the subject.
A seasoned mechanic who has comprehensive knowledge of automotive systems and can diagnose and repair various vehicle issues.
What is highly knowledgeable?
"Highly knowledgeable" refers to an individual who possesses an exceptional depth and breadth of knowledge in a specific field or multiple areas. They have extensive expertise, and a profound understanding, and are considered authorities in their respective domains.
Related