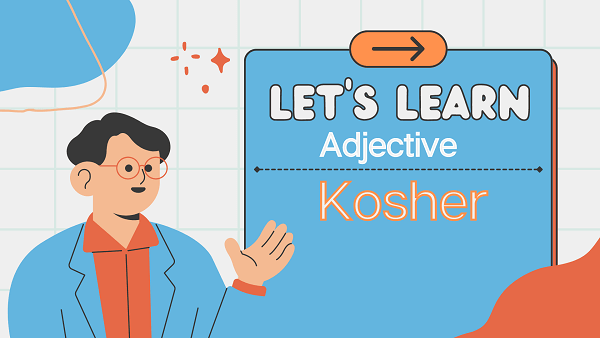 Casting Light on The Word 'Kosher'
Definition
"Kosher" is an adjective used to describe food and dietary practices that comply with Jewish dietary laws, known as kashrut. It signifies that the food has been prepared in accordance with specific religious requirements and is permissible for consumption according to Jewish tradition.
Kashrut
Kashrut is a set of dietary laws outlined in Jewish religious texts, including the Torah and Talmud. These laws dictate which foods are considered "kosher" and the rules for their preparation, handling, and consumption.
Dietary Restrictions
The kosher laws outline various dietary restrictions, such as the prohibition of certain animals and the separation of meat and dairy products. Kosher dietary guidelines also encompass specific requirements for the slaughtering and preparation of animals, as well as the inspection of food products.
Symbolic Meaning
The concept of Kosher extends beyond the practical considerations of food preparation. It holds symbolic and spiritual significance for those who follow Jewish dietary practices, reflecting a commitment to upholding religious traditions and maintaining a connection to Jewish identity.
Kosher Certification
Food products that comply with kosher laws may bear a kosher certification symbol, typically issued by a recognized kosher certification agency. These symbols provide assurance to consumers that the product has undergone the necessary processes to meet kosher standards.
Beyond Food
While most commonly associated with food, the term "kosher" can also be used in a broader sense to describe any practice or action that complies with Jewish religious laws and traditions.
Cultural Significance
Observing kosher dietary laws is an important aspect of Jewish cultural and religious identity for many individuals. It serves as a means of expressing faith, promoting community cohesion, and strengthening spiritual connections.
Contextual Usage
The term "kosher" is predominantly used within Jewish communities or when discussing Jewish dietary practices. It may also be used metaphorically to describe something that is genuine, legitimate, or in accordance with accepted standards.
FAQs(Frequently Asked Questions)
Is kosher the same as halal?
No, kosher and Halal are not the same. Kosher refers to food that complies with Jewish dietary laws, while halal refers to food that complies with Islamic dietary laws. While there are some similarities in certain dietary restrictions, the specific requirements and processes differ between the two.
Can Muslims eat kosher?
Muslims are allowed to eat kosher food as long as it meets the requirements of halal, with some exceptions. However, it is generally recommended for Muslims to seek halal-certified food to ensure compliance with their own religious dietary laws.
What makes something kosher?
in Jewish law, including the type of animal, preparation methods, and the separation of meat and dairy products. It must be certified by a recognized kosher certification agency to ensure compliance.
What is kosher in Islam?
In Islam, the term "kosher" is not used. Instead, the concept of halal is applied, which refers to food and practices that are permissible according to Islamic dietary laws.
Related