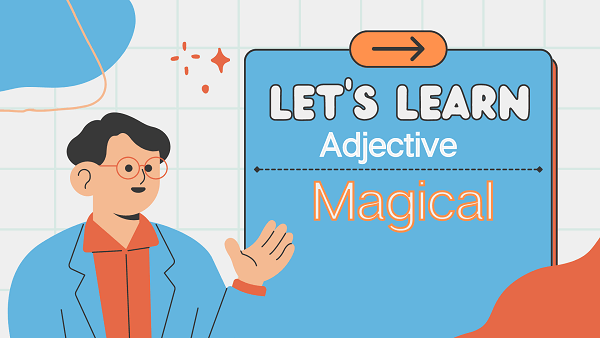 Casting Light on The Word 'Magical'
Adjective Usage
"Magical" is an adjective used to describe something that possesses qualities or characteristics associated with magic, enchantment, or wonder. It conveys a sense of awe, mystery, and extraordinary experiences.
Synonyms
Some synonyms for "magical" include enchanting, mystical, wondrous, fantastical, spellbinding, and miraculous. These words convey a similar meaning of something evoking a sense of awe, fascination, or supernatural elements.
Antonyms
Antonyms for "magical" include ordinary, mundane, unremarkable, and mundane. These words represent the opposite end of the spectrum, suggesting a lack of extraordinary or supernatural qualities.
Comparative and Superlative Forms
The comparative form of "magical" is "more magical," and the superlative form is "most magical." These forms are used to compare the degree of magical qualities or experiences between two or more things.
Etymology
The word "magical" originated from the Late Latin word "magical," which referred to something related to magic.
Magical Experiences
"Magical" can also describe extraordinary or awe-inspiring experiences that evoke a sense of wonder or transcendence. This could include witnessing a beautiful sunset, visiting a stunning natural landscape, or participating in a special event.
Magic in Entertainment
Magic tricks, illusions, and performances are often described as "magical" due to their ability to captivate and amaze audiences with seemingly impossible feats.
Magical Thinking
The term "magical thinking" refers to a cognitive process where individuals attribute special powers or supernatural causes to events or phenomena, often outside the realm of logical or scientific explanation.
Phrases and Idioms
The word "magical" is used in various phrases and idioms. For example, "like magic" means something happened quickly or effortlessly, and "a touch of magic" refers to adding a special or enchanting element to something.
FAQs(Frequently Asked Questions)
What is the synonym of magical?
A synonym for "magical" is "enchanted," conveying a similar meaning of something possessing qualities of wonder, charm, and supernatural elements. Other alternatives include "mystical," "spellbinding," or "fantastical."
What does magical being mean?
A magical being refers to a creature or entity that possesses supernatural or mystical qualities, often associated with enchantment, special powers, or extraordinary abilities beyond the realm of ordinary existence. It can include mythical creatures, fairies, wizards, or other fantastical beings.
What does magical mean for kids?
For kids, "magical" often means something that is extraordinary, enchanting, or filled with wonder. It can refer to experiences, stories, or objects that inspire imagination, spark joy, and create a sense of awe and fascination.
Related