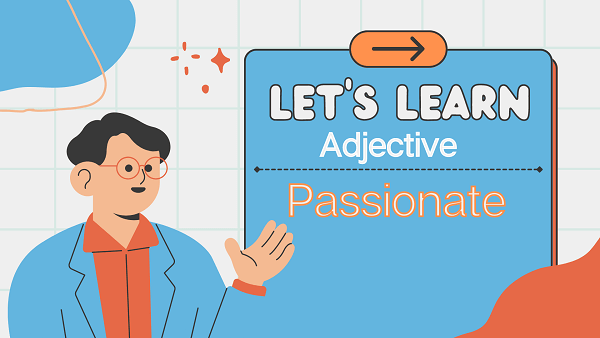 Casting Light on The Word 'Passionate'
Definition
"Passionate" is an adjective that describes intense emotions, strong enthusiasm, or deep commitment toward something. It implies a powerful and fervent dedication, often associated with strong feelings or desires.
Intensity of Emotion
When someone is described as passionate, it suggests that they experience emotions with great intensity and express them fervently. Passion can be seen in various aspects of life, including hobbies, relationships, careers, or causes.
Enthusiasm and Commitment
Being passionate signifies having a strong enthusiasm and commitment toward a particular interest, pursuit, or belief. It reflects a deep sense of dedication, motivation, and an unwavering drive to pursue and excel in that area.
Synonyms
Synonyms for "passionate" include "ardent," "fervent," "enthusiastic," "zealous," "intense," "dedicated," "fiery," and "wholehearted." These words convey the idea of a strong and intense emotional involvement or commitment.
Antonyms
Antonyms for "passionate" include "indifferent," "apathetic," "disinterested," "unenthusiastic," "cold," and "uninvolved." These words describe a lack of enthusiasm, emotional intensity, or commitment towards something.
Contextual Usage
"Passionate" can be used in various contexts, such as describing a passionate artist, a passionate speech, a passionate love affair, a passionate athlete, or a passionate advocate for a cause.
Personal Fulfillment
Being passionate about something can contribute to personal fulfillment, motivation, and a sense of purpose. It can lead to increased satisfaction, creativity, and a drive to achieve goals.
Authenticity and Expression
Passion often stems from one's authentic interests and values, allowing individuals to express their true selves and engage in activities that bring them joy and fulfillment.
Balance and Well-being
While passion can be a powerful motivator, it is essential to maintain a healthy balance and avoid becoming consumed or overwhelmed. Balancing passion with self-care and other aspects of life contributes to overall well-being.
Inspirational Impact
Passionate individuals often inspire and motivate others through their dedication, enthusiasm, and commitment. Their passion can influence and ignite the passions of those around them.
FAQs(Frequently Asked Questions)
What is the meaning of being passionate?
Being passionate means having intense emotions, strong enthusiasm, or a deep commitment towards something. It signifies a powerful and fervent dedication, often associated with strong feelings or desires. Being passionate involves wholeheartedly pursuing and expressing one's interests, beliefs, or goals.
What is a synonym for passion on a CV?
A synonym for "passion" on a CV could be "enthusiasm," "dedication," or "zeal." These words convey a strong sense of commitment, energy, and genuine interest in the field or role mentioned on the CV.
How do you use passion?
Passion can be used as a noun in sentences to describe strong feelings or intense emotions toward a particular interest or pursuit. For example:
"She pursued her passion for music and became a renowned pianist."
"His passion for social justice drove him to advocate for equal rights."
"The team's passion for innovation led to groundbreaking discoveries in their field."
Related