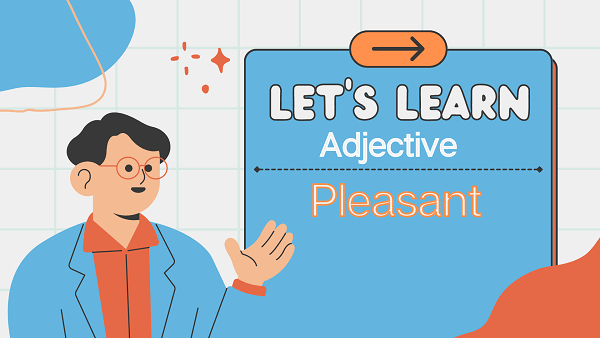 Casting Light on The Word 'Pleasant'
Definition
We can define pleasant as it describes something that is enjoyable, or agreeable. It conveys a sense of comfort, contentment, or positive feelings.
Positive Experience
The term "pleasant" implies a favorable or pleasing experience, often characterized by feelings of happiness, satisfaction, or ease. It can refer to pleasant weather, a pleasant aroma, a pleasant conversation, or a pleasant environment.
Agreeable and Appealing
"Pleasant" suggests something that is agreeable, appealing, or gratifying to encounter or engage with. It can describe people, places, situations, interactions, or experiences that evoke a sense of harmony, enjoyment, or well-being.
Synonyms
Synonyms for "pleasant" include "enjoyable," "delightful," "nice," "pleasing," "satisfying," "gratifying," "agreeable," "charming," and "lovely." These words capture the sense of positive feelings, satisfaction, or contentment often associated with pleasant experiences.
Antonyms
Antonyms for "pleasant" include "unpleasant," "unenjoyable," "disagreeable," "unappealing," "distasteful," "uncomfortable," "irritating," and "unfavorable." These words describe things or situations that evoke negative feelings or discomfort.
Contextual Usage
"Pleasant" can be applied to various aspects of life, such as pleasant weather, pleasant conversations, pleasant scents, pleasant music, or pleasant interactions with others.
Subjective Experience
The perception of what is considered pleasant can vary among individuals, influenced by personal preferences, cultural backgrounds, and specific circumstances.
Emotional Well-being
"Pleasant" experiences or surroundings can contribute to positive emotional well-being, creating a sense of happiness, relaxation, or contentment.
Polite and Agreeable Demeanor
When referring to people, "pleasant" can describe someone who is courteous, friendly, or easy to get along with. It suggests a positive disposition and a willingness to create a harmonious atmosphere.
Everyday Enjoyment
Recognizing and appreciating pleasant moments or experiences in daily life can contribute to overall happiness, well-being, and a positive outlook.
FAQs(Frequently Asked Questions)
What is the present meaning of pleasant?
The present meaning of "pleasant" refers to something that is enjoyable, agreeable, or satisfying in the current moment. It signifies a positive experience or feeling of contentment, often associated with comfort or pleasure.
What's another word for pleasant?
Another word for "pleasant" is "enjoyable," which conveys a similar sense of satisfaction, delight, or agreeability. Other alternatives include "delightful," "pleasing," or "gratifying," capturing the notion of positive experiences or feelings.
What is pleasant in a sentence?
Here's an example sentence using the word "pleasant": "We had a pleasant picnic in the park, enjoying the warm sunshine and gentle breeze." This sentence illustrates a pleasing and enjoyable experience in a pleasant outdoor setting, highlighting the positive sensations and contentment associated with the situation.
Does pleasant mean happy?
While "pleasant" and "happy" share some similarities, they are not entirely synonymous. "Pleasant" generally refers to something that is enjoyable, agreeable, or satisfying, while "happy" specifically denotes a state of joy or contentment. "Pleasant" experiences can contribute to happiness, but happiness is a broader and deeper emotional state encompassing overall well-being and fulfillment.
Related