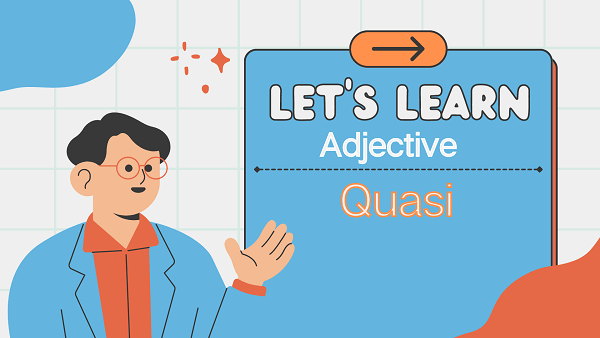 Casting Light on The Word 'Quasi'
Definition
The term "quasi" is a Latin-derived prefix that means "resembling" or "seemingly." It is used to describe something that has some similarities or characteristics of a particular thing but is not exactly or fully that thing.
Meaning
When something is described as quasi, it suggests that it has certain qualities, features, or attributes that resemble or imitate something else, but it is not identical or genuine in nature. It indicates a partial or approximate resemblance or similarity.
Synonyms
Partial
Semi-
Pseudo-
Simulated
Mock
Antonyms
Genuine
Authentic
Real
True
Actual
Importance of Quasi
Clarity and Precision
The use of the term quasi helps to communicate that something is not fully or genuinely what it appears to be. It brings clarity by highlighting the partial resemblance or similarity, preventing confusion or misunderstandings.
Legal and Technical Terminology
Quasi is frequently used in legal and technical contexts to describe entities or concepts that have characteristics resembling something else, but with specific legal or technical distinctions. It allows for precise categorization and differentiation within specialized fields.
Academic and Scientific Discussions
Quasi is often used in academic and scientific literature to indicate approximations, simulations, or models that resemble certain phenomena or theories but are not exact representations. It helps researchers discuss and analyze complex concepts with specificity.
Avoiding Misrepresentation
Using the term quasi helps prevent misrepresentation or overgeneralization. It allows for nuanced discussions by acknowledging that something has similarities but is not completely or genuinely identical, avoiding misleading or false claims.
FAQs(Frequently Asked Questions)
How is "quasi" different from "pseudo"?
While both quasi and pseudo indicate a resemblance or imitation, they have slightly different connotations. Quasi suggests a partial or approximate similarity, while pseudo implies something false or deceptive. Quasi refers to a partial resemblance, whereas pseudo denotes something that is not genuine or authentic.
Can you give an example of something described as quasi?
An example of something described as quasi could be a quasi-scientific theory. It implies that the theory has some similarities or features of a scientific theory, but it may lack the rigor, empirical evidence, or full acceptance within the scientific community.
Is quasi a commonly used term?
Quasi is not as commonly used as some other terms, but it is frequently employed in certain fields, such as law, academia, and technical discussions. Its usage depends on the context and the need to convey a specific meaning of partial resemblance or imitation.
Are there any potential limitations or misunderstandings associated with the term quasi?
One potential limitation is that the term quasi can be subjective and open to interpretation. Its usage may vary across different contexts and disciplines. It is important to provide additional context or clarification when using the term to avoid confusion or misinterpretation.
Continue To Explore A-Z Words