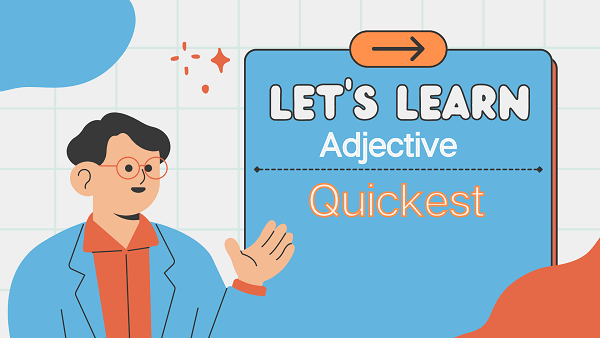 Casting Light on The Word 'Quickest'
Definition
"Quickest" is the superlative form of the adjective "quick," indicating the highest degree of speed or rapidity among a group of items or actions. It describes something that happens, moves, or is done with the greatest celerity or in the shortest amount of time.
Meaning
When we say something is the "quickest," we mean that it is the fastest or speediest among other options or alternatives. It represents the topmost level of promptness and efficiency in comparison to other similar things or actions.
Synonyms
Fastest
Swiftest
Speediest
Most rapid
Most expeditious
Most fleet
Most hasty
Most nimble
Antonyms
Slowest
Sluggish
Most leisurely
Most gradual
Most delayed
Most protracted
Most languid
Most tardy
Importance of Quickest
The term "quickest" is of great importance in various contexts, especially when time is a critical factor. In competitive situations, having the quickest response or being the quickest in completing a task can lead to an advantage over others. It is crucial in emergencies, decision-making, and achieving time-sensitive goals.
FAQs(Frequently Asked Questions)
How is "quickest" used in everyday language?
In everyday language, "quickest" is often used to compare the speed or efficiency of different actions, processes, or objects. For example, "Among all the runners, she was the quickest to finish the race."
Can "quickest" refer to mental abilities as well?
Yes, "quickest" can refer to mental abilities, indicating someone's superior speed in processing information, solving problems, or making decisions.
How does "quickest" relate to productivity and efficiency?
Being the "quickest" is closely related to productivity and efficiency. When someone or something is the quickest, they can complete tasks more rapidly, leading to higher productivity and achieving goals efficiently.
What is the difference between "quick" and "quickest"?
The difference between "quick" and "quickest" lies in their degree of comparison. "Quick" is the base form, indicating a high speed or promptness, while "quickest" is the superlative form, representing the highest degree of speed among others.
Continue To Explore A-Z Words