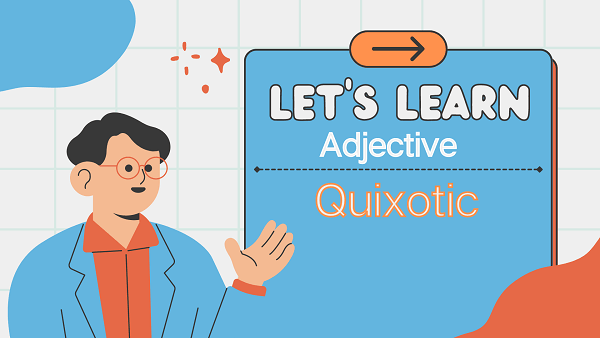 Casting Light on The Word 'Quixotic'
Definition
"Quixotic" is an adjective that describes someone or something that is exceedingly idealistic, visionary, or impractical. It is often used to refer to actions or pursuits driven by lofty and noble aspirations, but which are also unrealistic or romanticized.
Meaning
When we say something is "quixotic," we mean that it reflects the characteristics of the literary character Don Quixote from Miguel de Cervantes' novel. Don Quixote was known for his chivalrous quests and pursuits of impossible dreams, making "quixotic" synonymous with overly optimistic and impractical endeavors.
Synonyms
Idealistic
Romantic
Visionary
Utopian
Impractical
Dreamy
Unrealistic
Chimerical
Antonyms
Realistic
Practical
Pragmatic
Sensible
Rational
Feasible
Down-to-earth
Matter-of-fact
Importance of Quixotic
The term "quixotic" is important in discussions surrounding ambition, dreams, and the balance between idealism and practicality. While being quixotic can inspire others and fuel aspirations, it also serves as a cautionary reminder of the importance of grounding dreams in reality.
FAQs(Frequently Asked Questions)
Can "quixotic" have positive connotations?
Yes, "quixotic" can have positive connotations, especially when describing individuals with a strong sense of idealism and a willingness to pursue their dreams regardless of obstacles. It can inspire others to think beyond the ordinary and strive for greatness.
How is "quixotic" different from being "ambitious"?
"Quixotic" and "ambitious" have similarities, as both relate to striving for lofty goals. However, "quixotic" implies a certain level of impracticality and a disconnect from reality, while "ambitious" is more about setting challenging but attainable objectives.
Can "quixotic" be used in a literary context only?
"Quixotic" is not limited to literary contexts. It can be used in various situations, such as describing someone's pursuits or goals in politics, business, or personal life, which may be seen as idealistic or unachievable.
What is the cautionary aspect of the term "quixotic"?
The cautionary aspect of "quixotic" lies in its potential to lead individuals or groups into unrealistic ventures that may not be practically achievable. While having big dreams is admirable, it is crucial to balance idealism with a realistic understanding of the challenges involved.
Continue To Explore A-Z Words