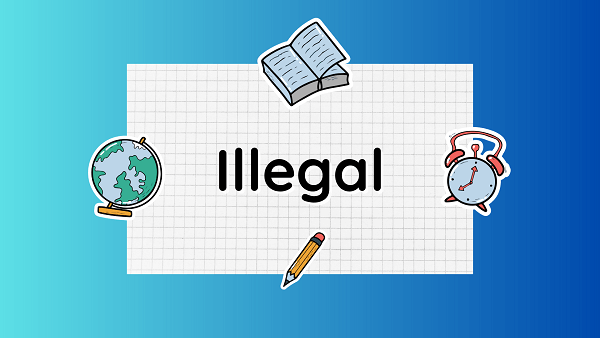 Casting Light on The Word 'Illegal'
Definition
"Illegal" is an adjective that describes something that is prohibited, not authorized, or against the law. It denotes an action, behavior, or entity that violates legal regulations or statutes.
Opposite of "Legal"
"Illegal" is the opposite of "legal" and represents actions or activities that are considered unlawful or illicit.
Legal Context
The term "illegal" is primarily used within a legal context, referring to actions that are expressly forbidden by laws enacted by governing authorities.
Various Applications
"Illegal" can apply to different areas, such as immigration (illegal immigration), substances (illegal drugs), activities (illegal gambling), or actions (illegal parking).
Consequences
Engaging in illegal activities can lead to legal consequences, including fines, penalties, imprisonment, or other legal sanctions.
Subjectivity
The definition of "illegal" can vary depending on the jurisdiction or country, as laws and regulations differ across different legal systems.
Synonyms
Some synonyms for "illegal" include unlawful, illicit, prohibited, unauthorized, criminal, against the law, and forbidden.
Etymology
The word "illegal" originates from the Latin word "illegālis," which combines "in-" (not) and "lex" (law), literally meaning "not according to law."
Moral Implications
While "illegal" primarily pertains to legal violations, it's worth noting that legality doesn't always align with morality. Some actions may be illegal but still regarded as morally justifiable by certain individuals or groups.
Advocacy for Change
Certain actions or behaviors that were once considered illegal have been subject to advocacy efforts aiming to challenge or change existing laws or regulations, often to promote social justice or reform.
FAQs(Frequently Asked Questions)
What was illegal mean?
"Illegal" is an adjective that describes something that is against the law or prohibited by legal regulations. When something is deemed "illegal," it means it is not authorized or permitted according to the laws of a particular jurisdiction. Engaging in illegal activities can result in legal consequences, such as fines, penalties, imprisonment, or other forms of legal action.
What are examples of illegal?
Examples of illegal activities or actions can vary depending on the jurisdiction and specific laws in place. Here are some common examples:
Theft: Taking someone else's property without permission or by using force is illegal.
Robbery: Robbing or forcefully taking property from someone through intimidation or threat is illegal.
Fraud: Engaging in deceptive practices, such as identity theft, credit card fraud, or insurance fraud, is illegal.
Murder: Taking another person's life intentionally is a serious criminal offense and is illegal.
Driving Under the Influence (DUI): Operating a vehicle while under the influence of alcohol or drugs above the legal limit is illegal.
What is a synonym for the word illegal?
A synonym for the word "illegal" is "unlawful." Both terms convey the same meaning of something being against the law or not authorized by legal regulations. Other synonyms include "illicit," "prohibited," "forbidden," "unauthorized," and "criminal."
Is legal the opposite of illegal?
Yes, "legal" is the opposite of "illegal". Legal actions are by established laws and regulations, whereas illegal actions violate them. The terms "legal" and "illegal" represent opposing concepts in the context of conformity to legal standards.
Related