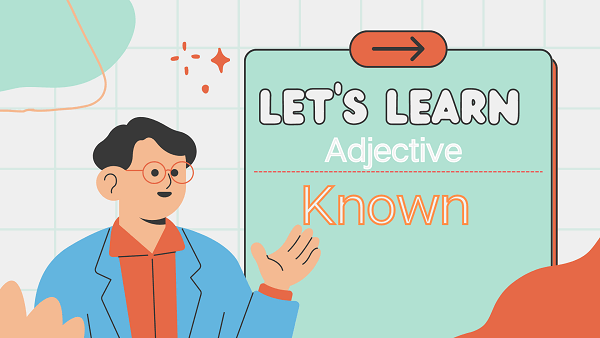 Casting Light on The Word 'Known'
Definition
"Known" is the past participle form of the verb "know." It describes something that has been recognized, understood, or acknowledged by people as factual or familiar.
Awareness and Recognition
When something is known, it means that it has come to the attention or awareness of individuals or a group of people. It implies recognition and familiarity with the information or subject.
Knowledge and Information
"Known" is often used to indicate the possession of knowledge or information about a person, thing, event, or concept. It suggests that the information is established, verified, or widely accepted.
Personal or Public Awareness
"Known" can refer to being recognized either on a personal level or in a broader public context. It can describe an individual who is known by others, or it can refer to something widely recognized or famous.
Past Tense Usage
"Known" is the past tense form of "know" and is used to describe actions or situations that have already taken place or information that was previously understood.
Synonyms
Synonyms for "known" include "recognized," "familiar," "established," "acknowledged," "noted," and "understood." These words convey a similar sense of being recognized or understood by others.
Antonyms
Antonyms for "known" include "unknown," "unrecognized," "obscure," "unfamiliar," and "undiscovered." These words describe situations or information that is not yet recognized or understood.
Linguistic Usage
"Known" is commonly used in various contexts, such as personal relationships, general knowledge, scientific discoveries, historical events, and public figures. Its usage can vary depending on the specific context and subject matter.
Etymology
The word "known" comes from the Old English word "cnāwan," which means "to know." It has been in use in the English language for centuries.
Contextual Interpretation
The meaning and significance of "known" depend on the context in which it is used. Its connotation can vary depending on the subject matter, audience, and purpose of communication.
FAQs(Frequently Asked Questions)
What meaning is known?
The word "known" refers to something that has been recognized, understood, or acknowledged by people as factual, familiar, or established. It implies awareness or familiarity with the subject or information.
What is the other word for known?
Another word for "known" is "recognized," which suggests that something is acknowledged, familiar, or widely identified by people. It conveys the idea of being well-known or acknowledged as true or valid.
What is known as in English?
In English, "known as" is a phrase used to introduce an alternative or commonly used name or designation for someone or something. It indicates that the mentioned name is what the person or thing is widely known or referred to as.
What is an example of known?
An example of "known" is "He is known for his exceptional artistic talent." It indicates that the person is recognized and celebrated for their outstanding artistic abilities.
Related