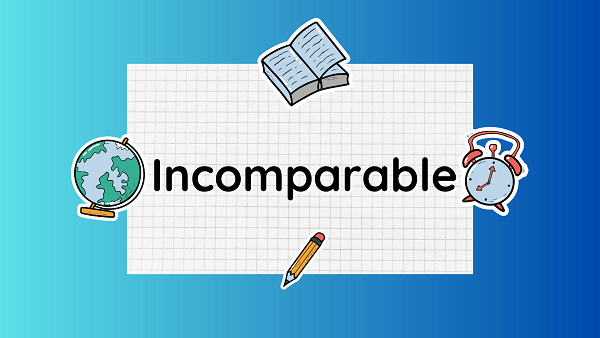 Casting Light on The Word 'Incomparable'
Definition
"Incomparable" is an adjective that describes something or someone that is beyond comparison or unmatched in quality, excellence, or superiority. It signifies a level of greatness or distinction that sets the subject apart from others.
Unmatched Excellence
When something is described as incomparable, it suggests that it is exceptional, extraordinary, or unparalleled in its qualities, achievements, or characteristics. It denotes a level of excellence that surpasses any comparable or similar entities.
Unique and Rare
"Incomparable" implies uniqueness or rarity, indicating that the subject possesses qualities or features that are exceedingly rare or extraordinary. It suggests that there is no equivalent or comparable entity that can match its level of greatness.
Beyond Comparison
The term "incomparable" emphasizes that the subject cannot be adequately compared to others due to its exceptional nature. It signifies that it stands in a league of its own, surpassing any other similar or related entities.
Superiority and Greatness
Incomparable entities are often associated with a sense of superiority, greatness, or distinction. They are regarded as the pinnacle of epitome of their respective fields or domains, setting the standard for excellence.
Broad Range of Applications
"Incomparable" can be used to describe various aspects, including individuals, works of art, achievements, experiences, skills, performances, or qualities that possess exceptional or unmatched qualities.
Synonyms
Some synonyms for "incomparable" include unmatched, peerless, unparalleled, unrivaled, extraordinary, exceptional, unequaled, and sublime.
Contextual Usage
The meaning of "incomparable" can vary depending on the context in which it is used. It can refer to different aspects of life, such as beauty, talent, intelligence, success, achievements, or experiences.
Subjective Perception
The term "incomparable" is subjective and can vary depending on individual perspectives, cultural contexts, or personal preferences. What one person considers incomparable may differ from another's viewpoint.
Expressing Admiration
Describing something or someone as incomparable is often an expression of admiration, acknowledging the extraordinary and unmatched qualities they possess.
FAQs(Frequently Asked Questions)
What does it mean if someone is incomparable?
If someone is described as "incomparable," it means that they possess qualities, skills, or attributes that are unmatched or beyond comparison.
Is it correct to say incomparable?
Yes, "incomparable" is a correct word in the English language.
What is the synonym of incomparable?
Related